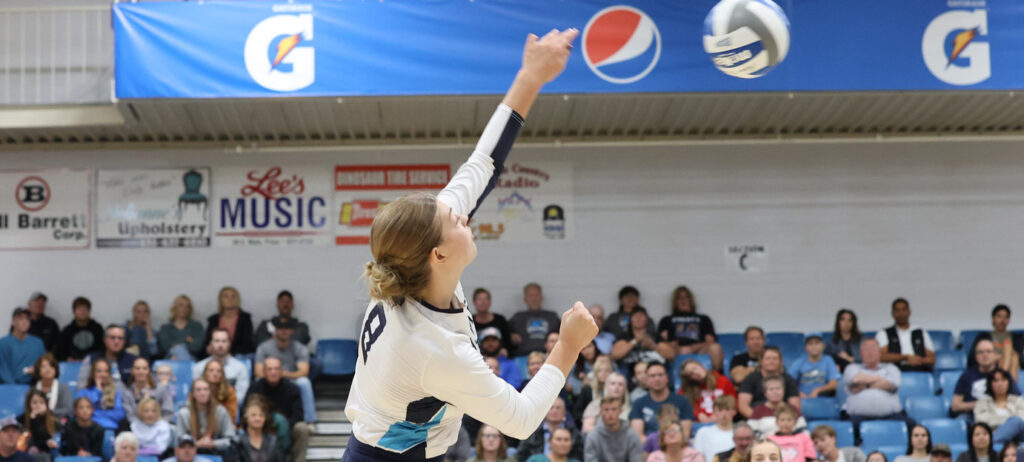 The Utah State Eastern Eagles volleyball team captured
their first-ever Scenic West Athletic Conference championship
with a 3-0 win over Colorado Northwestern Community
College in Rangely.
The Eagles finished the regular season 19-7 overall, 8-2 in
conference play, ranked ninth in the country, and are almost
certain to go to the national tournament in Hutchison, Kansas
for the second straight year.
There wasn't much hope for the Eagles weeks ago after a
loss at home to Salt Lake Community College. But they finished
with six straight conference wins, including a huge road win
in a hostile environment against No. 3 SLCC.
"This championship is huge for our program," Coach
Danielle Jensen said. "This is something we've worked on
for quite a while now. Our team made it a goal to accomplish
a championship this year."
But she said that after the early loss to SLCC the team
had to reevaluate. "The girls knew what we needed to do and
weren't content with not finishing strong. They're not going to
settle like past teams and back down, and we're going to work."
The team was riding a five-game win streak heading to
Colorado. The Eagles were heavy favorites and they didn't
disappoint. They dominated, winning 25-14, 25-16, and 25-16,
sweeping the Spartans.
Sophomore hitter Sunny Perry had another impressive
performance with 11 kills and a .320 hitting percentage. She
wasn't alone. Middle blocker Lindsey Otero had nine kills with
a .500 hitting percentage. Setter Ashley McUne showed off
her passing with 23 assists, and defensive star Emma Ricks
had 22 digs to lead the way defensively.
"These players never give up," Jensen said. "They're so
good at looking at themselves and looking for things that they
are doing wrong. Sometimes other teams like to make excuses
for why they lose games, like winning is luck. We don't do
that here, and you have to be able to look at yourself and figure
out what your weaknesses are. This team has really worked
on the mental side."
USUE will travel to Rangely, Colorado, November 5-6
to compete in the SWAC Region 18 conference tournament
hosted by Colorado Northwestern CC. It will be a a six-team
single-elimination format. The champion Eagles will have
top seed and a first-round bye. They will play the winner of
College of Southern of Idaho vs. College of Southern Nevada
in the semi-finals, and the winner of that game will go to the
championship on November 6th. They would not face No. 2
seed SLCC until then.
USUE's strong performance during the regular season
almost guarantees a spot in the NJCAA Division I tournament
in Hutchinson, Kansas, the Eagles second-straight appearance.
However the spot isn't assured if they have a poor showing in
the SWAC Tournament.
The national tournament features 16 of the finest NJCAA
volleyball teams from throughout the country. They will fight
for National Champion at the Hutchinson Sports Arena. If the
Eagles can somehow win the SWAC tournament, they will be
top seed at the NJCAA tournament. Last season USUE lost in
the semi-finals against the eventual champions Iowa Western.
The team is healthy, the chemistry is at an all-time high,
and of course, they have talent.