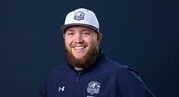 Three starting pitchers return from last season when the USU Eastern baseball team
opens at home February 25 against Dawson Community College.

The season officially started Jan. 28-30 in Henderson, Nevada where the Eagles lost four
games to Arizona opponents. They will continue to play at tournaments in Thatcher and Douglas
Arizona for the next month.

"We have a lot of young talent to compliment our returning guys," says Coach Kirk Haney,
who is a guest on the Eagles Up podcast. "Our returners have really made improvements to get
better for this year, and it's exciting to see the new guys coming in and competing immediately
with the guys that have been here before."

Among returning players from last year's 24-32 team are pitchers Hayden Brock from
West Valley City, Kody Nelson from Riverton, and Riley Ashton from West Jordan.
"It's nice to have three veteran players that have experience at the collegiate level," Haney
said. "All three of these guys can throw well, locate the ball, and like I said, they have
experience."

Brock pitched 61 innings last season with 76 strikeouts, 2 wins, and a 3.98 earned run average.
Nelson threw 57.1 innings, with 66 strikeouts, 3 wins, and a 6.28 ERA. Ashton threw 52 innings,
with 61 strikeouts, 1 win, and a 8.48 ERA. Some newcomers to look out for on the mound this
season are Carson Hawkes and Gabe Lundbeck.

Gabe Childs of Caldwell, Idaho, Kaden Kunz of Salem, and Ty Barker of Provo, headline
the offensive leaders of the young team. Childs caught fire at the end of the season as he finished
with a .288 batting average, 4 home runs, and 33 runs batted in. Kunz had a consistent season
with a .207 batting average, 3 home runs, and 14 RBI. Ty Barker shared time with a few other
catchers last season, but when he played, he batted .250, with 1 home run and 20 RBI.

"These guys have experience facing college arms and we are going to be counting on them
heavily to produce for us at the plate this season," Haney said. He mentioned that Dylan
Hawkes, Jake Mortensen, and Payton Norman are newcomers that he expects to make an
immediate impact offensively.

When asked about what he would like to see most this season, Coach Haney had one
request. "I hope that we are able to have a lot of community support this season. It makes a big
difference having a full crowd. These boys work hard, and it would be nice to see some
community support for them."