Leaving College
But my time of feeling at home at USUE, this place where I have experienced a wonderful sense of belonging after 14 years of being a tumbleweed, is ending.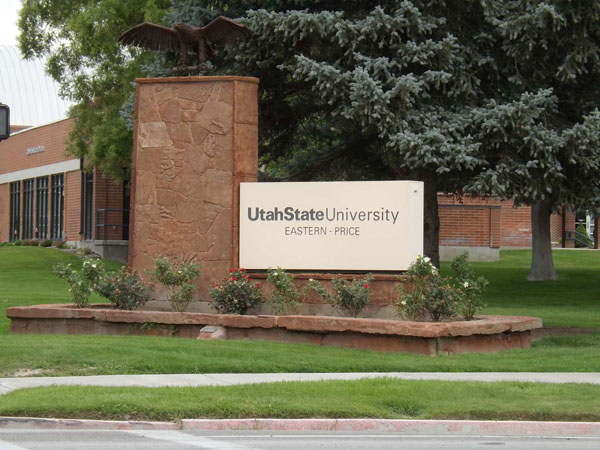 Some people know what they want with their lives from an early age and know where they belong. My ex-husband knew he wanted to join the military, and he was in the Air Force for 14 years. He thrived in the competitive military culture, but it was a culture I did not fit in to. For me, it was an isolated lifestyle, and our family was uprooted every other year to move to an Air Force base across the country. Setting down roots, no matter how small, was sometimes impossible. In 14 years, we lived in seven states. Often during my time as a military spouse, I felt like something was deeply wrong with me.
I spent years feeling like a tag-along and didn't feel like I was a part of anything. After beginning college in 2019, it was immediately obvious that I had found my place. In contrast with the military's rigid ranking system and loud Airmen, college was quiet, and my professors treated me more like a colleague even though they "outranked" me. In contrast with the competitive fitness challenges I witnessed between Airmen, the world of higher education challenged me to think harder, dig deeper, and become a better version of myself emotionally and intellectually.
Over the past three years, my classes honed my skills. This year, I have a place on campus where I belong, and I am fortunate to share with other students the skills my coursework developed in me. Working as a writing tutor is humbling and brings me so much joy. I have become close with many professors and the English department feels like home.
I have another place on campus where I belong. Each Monday and Wednesday afternoon for the past year and a half, I have met with the staff of the campus newspaper. We brainstorm, write, layout pages, take photos, and create podcasts. Every other week, we create a newspaper together–a project that takes significant cooperation and teamwork. The people who work with the campus newspaper have become my people, and I feel an intense sense of belonging in the newsroom.
I am comfortable and happy here at USU Eastern.
But my time of feeling at home at USUE, this place where I have experienced a wonderful sense of belonging after 14 years of being a tumbleweed, is ending. There a just eleven weeks left until I am released into the professional world. And I don't want to leave. What to do next? I am terrified to make that decision
I am afraid to make the wrong decision and end up in a toxic work environment. It has taken years to foster relationships with professors and other people on campus. It has taken years to find the very specific place of belonging I have now. I am terrified to start all over again.
For most graduating seniors, this will be the entry point into adulthood, independence, and real-world responsibility. I know I am not alone in feeling terrified of leaving college. No matter the circumstances, graduating college is a huge life change.
For those of us who plan to attend graduate school, we wonder how much different will graduate courses be than undergraduate?
We went into college expecting the professional world to be what it was two years ago, but COVID-19 changed most work environments, which adds to the anxieties we already feel. How will we work from home when we have never had on-the-job training? The education and healthcare worlds have been revolutionized—and these career fields are unpredictable.
Feeling terrified stems from a loss of control. We don't have control over what happens next. Maybe we don't yet know what our first job will be. For those with job offers, there's no telling what the job will be like and how it will fit into our personal lives. We won't know any of this until we graduate.
There are some things we can control, and even though they feel small in comparison to the big picture, focusing on these small things can feel grounding.
Keep a journal—for many, journaling feelings can be the best way to discover what we think and what we want.
Polish up the resume and ask for feedback. Students can visit the Career Design Center for resume reviews. www.usu.edu/career-design-center/students/drop-ins
Send applications out into the world and prepare for interviews.
Validate feelings. This is a big transition and it's okay to experience complicated emotions.
I am terrified of what comes next and sad about giving up the life I know here as an undergraduate student at USU Eastern. I grieve the upcoming loss of an important chapter in my life. I grieve the loss of relationships, routine, and an entire world that has been familiar to me for years.
I know I am not alone, and I take comfort in the fact that so many have journeyed into the unknown world before me and have found happy and successful lives on the other side of graduation.