New athletic director is a familiar face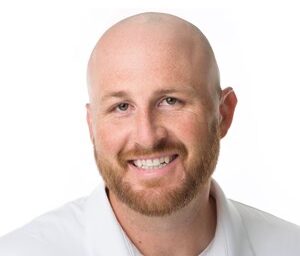 The Bunnell-Dmitrich Athletic Center will be organized and more functional if Utah
State University's new director of athletics has his way.

Jess Brinkerhoff, a familiar face on campus, started his new position in February after an
exhaustive search to replace Scott Madsen. Madsen, also a former baseball coach at USUE,
resigned after serving as athletic director since 2019.

Brinkerhoff grew up in Bicknell, Utah, 111 miles south of Price. Though he didn't
always know which career he wanted, mentors encouraged him and pushed him onto the right
path. "I chose my top three career fields and shadowed people who worked in those fields,"
Brinkerhoff said. "I got to see the good, the bad, and the everyday slog. That's how I found out I
wanted to be an athletic trainer."

He said he advises students to do the same. "Pick three career fields and try to shadow
people who work those jobs."

He earned a bachelor's degree in athletic training from Southern Utah University in 2014
and stayed at SUU to complete a master's degree in sports conditioning and performance. After
graduating, Brinkerhoff taught sports medicine at Southwest Applied Technology College in
Cedar City. He later moved to Kingman, Arizona and taught at Lee Williams High School for
two years.

Brinkerhoff was hired as USUE's head athletic trainer in 2017. He was initially drawn to
Eastern because he grew up in a small town and wanted to live where he could enjoy the small-town way of life. He is also closer to his family in Bicknell. "Price has really grown on me, and
the people are really amazing," he said.

Brinkerhoff looks for ways he can fill needs around him. His role as head athletic trainer
shifted and grew as he took on more responsibilities, hired more part-time employees, and
created an introduction to athletic training course.

In 2019, Brinkerhoff filled in as the anatomy professor for a year and a half. "It was a
really great experience. I love anatomy, and teaching it pushed me outside my limits, which is
something that I really like to do."

He said he pushes himself outside of his comfort zone because it results in personal
growth. "I wear a bracelet that says 'do hard things' because I enjoy making my life
uncomfortable in the ways that I want to."

Over the span of ten years as athletic trainer, he said his favorite memories include teams
winning games when the odds were against them, and reconnecting with former players and
coaches. "I love when I see them again and we give each other a big hug and say how much we
missed each other. I love when they tell me that and that I made a difference and people
remember it."

In addition to surprise wins and reconnecting with people, Brinkerhoff loves teaching.
"Being a professor is really awesome. You get to have that personal relationship with students.
Since we're interested in the same things, I can help guide them in the direction they want to go,
especially if they aren't sure how to get there themselves."

Brinkerhoff won the job in January and began his new role as athletic director on Feb. 1.
"This role is a great opportunity to get where I always wanted to go, and to build upon what
other people before me have done a great job with."
His goals for the new position revolve around building and improving upon what already
exists at Eastern, they are "centered on trying to make both our students' and coaches lives
better, and to help the coaches with their goals. I want to help the community to be way more
involved and to start to love USU Eastern athletics again."

He wants to improve the BDAC, and to help Eastern athletics be better known and hopes
that students leaving here will be good members of society. "I want them to think of Eastern and
Price as a good place to live and go to school. I want their time here to be an experience they
remember for the rest of their lives, and for the experience to be as positive as it can be," he said.
In addition to working as the director of athletics, he teaches kinesiology 2710:
Introduction to athletic training.

Brinkerhoff is married with three children. He is an active man who only makes time to
watch his favorite anime "My Hero Academia," while working out. When he has free time, he
takes his children to the park and he enjoys helping on his father's farm.