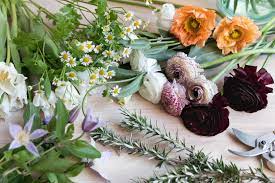 By Ryleigh Dunn

As springtime approaches and the weather starts to warm, there is no better time to enjoy the beauty of
flowers.

Utah State University offers many interesting and fun classes for students with many different types of
interests. But did you know that floral arranging is among those options?

Floral arranging is the organization and placement of flowers to create a work of art that is pleasing to
the eye. Arrangements serve purposes such as weddings, table centerpieces, funerals, Valentine's Day
and other holidays.

"We learn how to create a wide variety of floral design products ranging from corsages to wedding
arrangements and an array of different flowers and their uses," said USU student Cole Lancaster, who is
enrolled in the class.

Lancaster's favorite type of arrangement is the centerpiece. "They are mainly known for being a
conversation starter and are usually in a short vase or pot because you want to be able to see over it,"
he said.

Centerpieces are meant to be enjoyed and have certain shapes and dimensions so they can be viewed
from all angles.

Wedding florist Austin Galletti had been an assistant for three years for small business HollyVilles before
starting college in 2018. He plans to run his own business one day in Colorado.

"I saw an ad on Facebook and decided it would be the perfect opportunity to get my hands dirty," said
Galletti, who oversaw designing and creating different arrangements for the wedding tables and arches,
based on what the clients wanted. "I primarily stuck to weddings and, even in that industry there are
different types of bouquets."

One of Galleti's favorite bouquets was the 'oh he done messed up' arrangement, which men buy for
women when they do something wrong and want to apologize in style.

Galletti also enjoys wedding arrangements, which are filled with so much joy, happiness, and optimism.
Some flowers are harder to work with than others, and Lancaster and Galletti opined on what they
thought were most difficult.

"Each flower has its own quirks," said Galletti, "but making sure that baby's breath works well with
other flowers in an arrangement can be a struggle sometimes." That and when working with vines, he
joked. "They don't like to listen to you."

In the classroom, corsages are the most difficult, Lancaster said. "They are a statement piece for dances;
they tend to be minimalistic and only use a few flowers."
Interested students can enroll in the two-credit course PSC 2030-Basic Flower Arranging. See the course catalog for more information.