Eastern library, "Take one, leave one"
The free library of a "take one, leave one" book stand.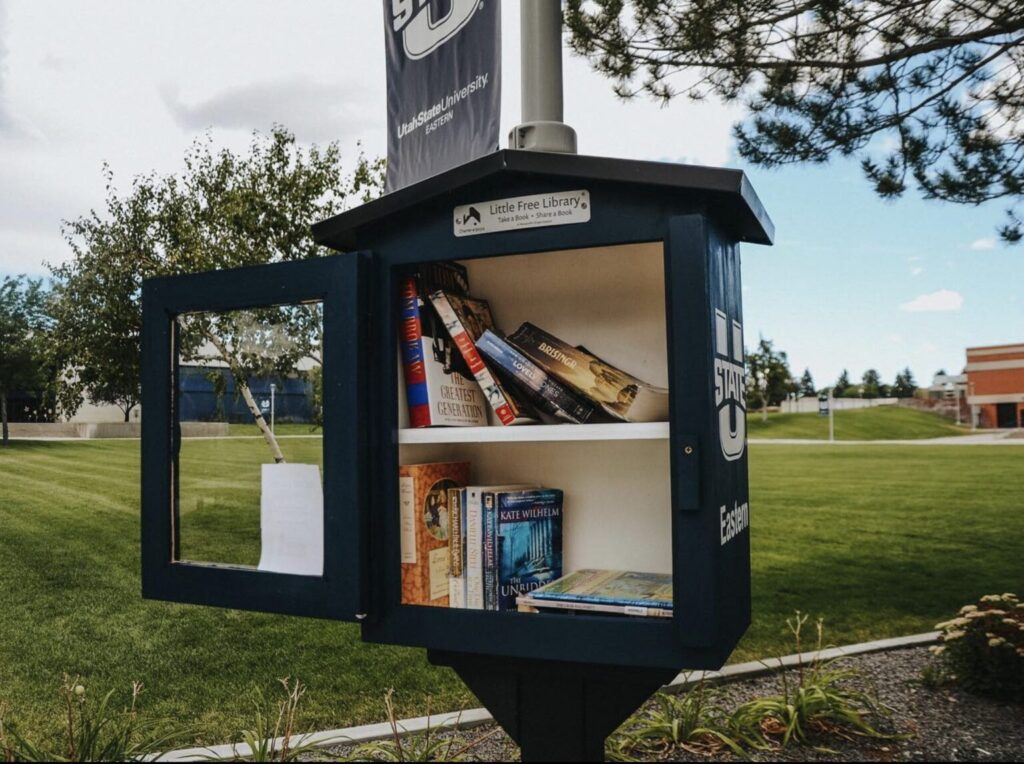 There is a new addition to the Utah State University Eastern campus, and it is the free library of a "take one, leave one" book stand. It is located near the Library & Learning Commons (LLC) and the Central Instruction Building (CIB), detailed with the USU signature blue paint. Now that we have a new stand for many people on campus and off campus to use, the "take one, leave one" has a community benefit for readers of any age and interest.
Benefits of the "take one, leave one," library can include improvement of reading levels through literary promotion, general neighborliness, expansion of literary horizons, communication skills with people who leave and take books and the cultivation of generosity.
Thus, only 14% of the United States population cannot read–this addition has wonderful library advocates reading for non-readers and readers who want to rehome books and obtain a new one for their entertainment. Reading is a social act–it helps with creativity and increases your brain activity, vocabulary, mental and physical health and more positive impacts on one's welfare.
The types of books that can be provided at our little library are educational, fictional, fantasy, non-fiction and other genres that provide help with a student's daily advances. Even so, the library is small and sparsely spaced. It is easy to maintain and modestly sized for books, which can also be useful for trading books on courses if it seems fit.
With the little library being on campus, there can be a large benefit for students and non-students who visit the stand in the middle of USU Eastern. If you have a book or several and you need space for your room, it will be best to leave some at the stand. Eventually, someone will browse the stand with the intention to read a new book on display.