Domestic Violence Awareness Month 
October has been Domestic Violence Awareness Month since 1989.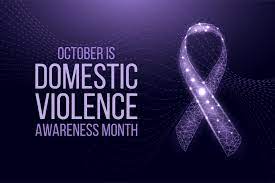 October has been Domestic Violence Awareness Month since 1989. Supporters and victims take the time each October to bring awareness to the subject. Domestic violence is defined as any form of abuse, physical, sexual, mental and emotional, in a romantic relationship and occurs frequently in relationships all around the world. Even though it's often unseen, domestic violence is common and help is available to DV survivors.
There is a strong stigma regarding domestic violence that it affects only women. Domestic violence affects both genders often. One in every three women will experience it in their lifetime, and one in every four men will experience it as well. Breaking the stigma will benefit more victims.
There are many resources for victims. The most commonly known source is the Nationwide Domestic Violence Hotline (1−800−799−7233) where victims can anonymously call and receive support, further resources, advice and find options. Utah State University offers multiple different resources itself, including the Sexual Assault and Anti-Violence Information Office (SAAVI). A study from Utah State University showed that one in three Utah women will experience some form of domestic violence in their life and 40% of Utah homicides were found in the study to be related to domestic violence.
On the USUE website, extensions.usu, there is a section dedicated specifically to domestic violence resources. This page refers to the hotline mentioned above as well as the hotline's non-emergency email, [email protected].
In honor of all the victims, victims and supporters wear a purple ribbon or other purple colored things to bring unity and comfort. In October, purple symbolizes peace, courage and dedication to ending violence.
"Nearly 20 people per minute are physically abused by an intimate partner in the United States," says the National Coalition Against Domestic Violence website. On the NCADV website there are three programs accessible to the public to support the victims and the movement to end domestic violence. NCADV also offers communication to the staff as well as ways to get help and to take action against abusers.
Each year the total number of domestic abuse cases rise significantly, and although it is hard for victims to escape the situation at hand, there are many different resources and programs to assist in different ways. Domestic abuse is acknowledged every month but the month of October is dedicated to shining a light on all the people suffering and who have suffered from a domestic partner and making assistance accessible to as many people as possible.