Highlight on men's international soccer players
This year the Utah State Eastern Men's Soccer team has five international athletes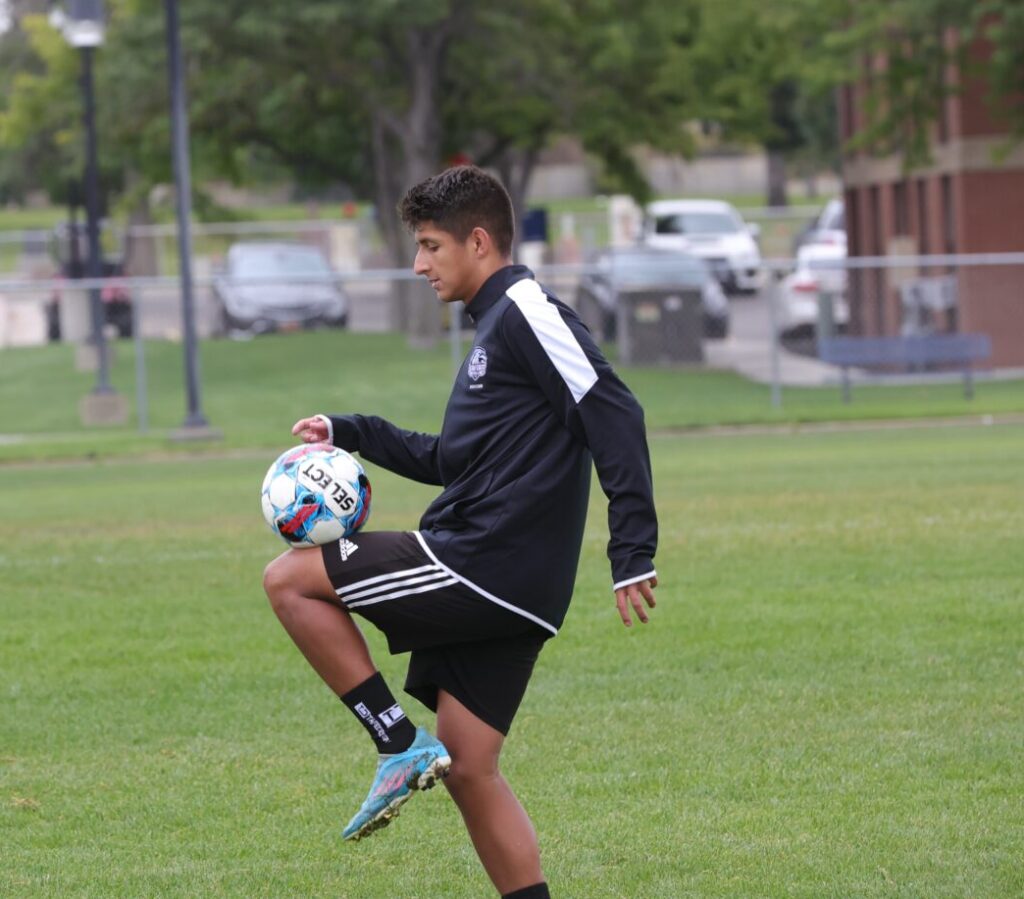 This year the Utah State Eastern Men's Soccer team has five international athletes–two sophomores and three freshmen. These athletes come from very different backgrounds and are from all over the world.
Christian Marciscano is currently in his second year on the team and is from Panama City, Panama. Marciscano grew up playing soccer from a very young age and instantly fell in love with the sport. Once in high school, he began playing for the high school team and some club teams. After high school, Marciscano had the opportunity to play for two years on a 3rd division club team in Madrid, Spain. During this time he played as a forward, but once coming to USU Eastern in fall of 2021, he began playing as a midfielder. Marciscano chose USUE because he saw a chance to play for a great soccer team while also getting a high quality education. Since being here, he has become very fond of the people and the diversity at USUE.
"The people really make the place, which is extremely important when coming from a different country," Marciscano said.
Guillermo Basilis is also a sophomore and second year member of the men's soccer team. Basilis is from the Dominican Republic and played soccer during his last two years of high school which was a boarding school for international students. After graduating high school, he received a scholarship offer from USU Eastern and began playing for the team as a goalkeeper. Basilis chose USUE because he liked the soccer team and the feel that this campus gave him. Something he loves about Eastern is the small campus because it allows him to really get to know everyone here.
Ramon Nunez is a current freshman from Tegucigalpa, Honduras. Since the age of four, Nunez played soccer for Club Olimpia Academy. He now plays for Utah State Eastern as a defender. He chose USU Eastern because of the opportunity to play the sport he loves and prepare himself academically.
Vinicius Silva is a freshman from Juiz De Fora, Minas Gerais, Brazil. He got his love for soccer from his grandpa at just five years old. Silva began playing at a high school level when he moved to Sao Paulo to play for Brasilis FC. On the USUE Men's Soccer Team, Silvia plays as a striker or winger. He is getting his generals done at Eastern and is really excited to learn more about Price and the people while playing the sport he loves.
Marko De Sa Faria is a freshman and was born in Portugal and lived there till he was nine years old. At nine years old he moved to Belgrade, Serbia. In Serbia, he played for club soccer teams and was the winner of the International Club Tournament in Hungary. At USU Eastern, De Sa Faria plays as a goalkeeper. He decided to come to school here because he liked the plan Coach Woodhouse had for the team. Since being on campus, he has really enjoyed meeting new people and making new friends.
The USU Eastern Men's soccer team is not the only athletic team on campus to have international athletes. Student athletes come from all over the world to play sports and attend Utah State Eastern.