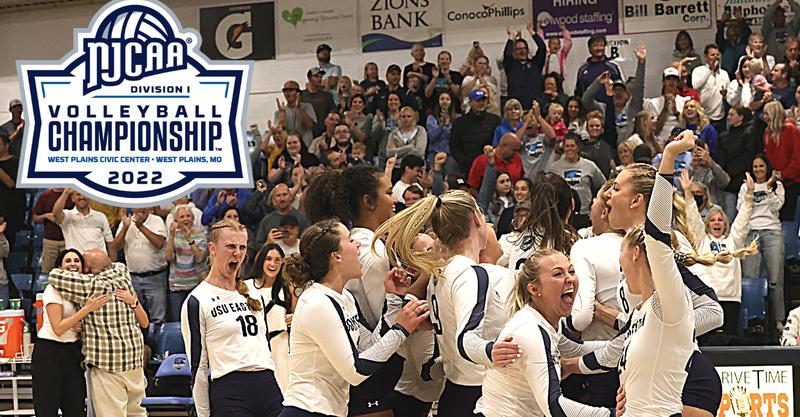 Utah State Eastern's volleyball team closed a sensational season with an outstanding 10th place finish in the NJCAA. Entering the tournament ranked 8th in the nation, the Lady Eagles took on the 9th ranked Rustlers from Central Wyoming.
Both teams played tremendously, and even with Eastern taking two of the first three sets, Central Wyoming proved to be too much and narrowly edged out the Eagles in the last set to secure the win (3-2).
Determined to prove their worth, Utah State Eastern made quick work in their matchups against Wallace State Community College (3-0) as well as Blinn College (3-1) to earn their way into a matchup against nationally ranked New Mexico Military Institution.
With Utah State Eastern suffering a heartbreaking loss to the New Mexico Military Institute, they would end their run at the national tournament in heartbreaking fashion.
Following the next few days, they would be awarded 10th place in the national tournament. A spot that is nothing to be taken lightly especially considering how young the team was.
"What this team has accomplished this year has been remarkable to say the least," said
head coach Danielle Jensen. "Beginning this season with such a young team, we knew how
much work was going to be required for us to achieve our goals and these girls did it."
And to top off one of the biggest weeks and achievements for the Lady Eagles, was an
announcement by the NJCAA President and CEO, Christopher Parker. Parker awarded USU
Eastern the "National Sportsmanship Award" which is the only other award given to a team
outside of the all-tournament team and the championship title.
The achievement was awarded by unanimous decision by the tournament committee due
to USU Eastern's outstanding sportsmanship and character towards both officials and fans alike
through the season and ultimately the entirety of the tournament.
Such an award is proof that things are done right here at USU Eastern.
And so with the season coming to an official end, there are a few things to appreciate
about the volleyball program and every amazing thing that they have accomplished over the past
season that we can analyze.
The Lady Eagles started the season with an outrageous 17 game win streak, earned and
maintained a national ranking throughout the season, earned a bid to go to the NJCAA to place
top ten in the nation, and won the "National Sportsmanship Award" just to name a few.
It's an exciting time to be an Eagle, and next volleyball season could not come fast
enough as we look forward to the other amazing things this team will be able to accomplish.