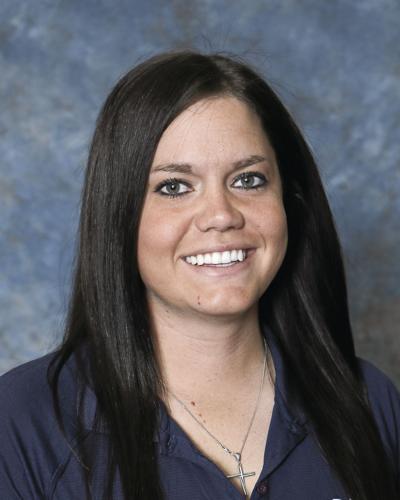 Katelyn Groves has joined the USU Eastern Family, and is excited to be a part of the softball program. USU Eastern has declared a new Head Coach, and she has already made great impressions and progress. The athletes are excited to get to know more about both her and her unique take on the sport.
Groves graduated from Bingham High School in South Jordan, Utah. Shortly after graduation, Coach Groves decided to attend Western Nebraska Community College. During her time at Western, she was able to receive two All-American titles.
In Central Missouri, Groves received her Bachelor's degree in Marketing, a Master's degree in Kinesiology and Sports Management, and a Master's Degree in Business Administration. She ended up coaching for a year while being a grad assistant.
After receiving her education, Groves returned to Western Nebraska as an assistant coach for three years before taking over the program in 2016. She also won a Region Title in 2019. Here at USUE, Groves has already started making great strides towards her goals within her first week
"I'm excited about this season, as well as the rest of the team," Groves said. "I, for one, am really proud of the way this team has handled their own share of adversity and proud to be their coach. They have all the tools to make a long run this year, [I] can't wait to see what we make of it."
Many of the players have already bought into her "Control the Controllables" concept. Sydney Smith, a sophomore pitcher, claims, "In just a week she's been able to help this team grow. Coach has been able to help all of the pitchers tremendously already. I can't wait to see how we perform on the field."
With everyone still getting used to the new direction, the majority of the Softball team seems to be on the same page. Freshman Lexi Carroll and Brinley Johnson both agree, "Groves is going to do great things for this program. She has a tremendous amount of softball knowledge, and is going to take the Eastern Softball program in a great direction. We are already seeing improvements to our team, she brought her coaching skills and put them all out on the table for us."