College Baseball Is Growing
Baseball fans like watching college baseball because they get to see future MLB players play a lower ticket price.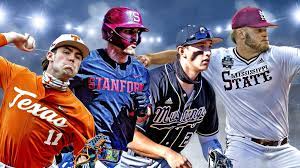 College baseball has been growing tremendously since the early 2000's.
More players are deciding to go play at a four-year collegiate baseball program instead hopping right into a minor league system out of high school. This means that college baseball is getting more and more talented players over the years. This also gives players four more years to develop their skills and become better players.
Many people also prefer watching college baseball over major league baseball. This is because there is more room for error in college baseball players, which makes games better. People also think major league players are lazy and do not care. Why should they? They are getting paid millions of dollars a year to play a game.
Major companies are starting to pay college athletes through something called NIL deals. NIL stands for Name, Image, and Likeness. Players can make money through the advertisement/endorsement of their name, image, or likeness. This is important because college athletes do not have time to get a job and make money. NIL deals make it so they do not need to work and they will be making money another way.
College baseball gives people more opportunities to keep playing the sport they love. There are over 1,000 college baseball teams which means a lot of people can play college baseball. But this does not mean everyone will be good enough to play. Roughly 5.5% of high school seniors will move on to play college baseball. To put that into perspective, 5.5% of 1,000 is 50. Because it is so hard to play college baseball, the competition is top tier.
Baseball fans like watching college baseball because they get to see future MLB players play a lower ticket price. A front row seat to a college baseball game could be anywhere from $70-$150, which is nothing compared to a major league game. A front row seat to an mlb game could range anywhere from $300-$500.
College baseball is also going to implement new rules this year, which will make the game more entertaining. The pitch clock is going to be in full swing this year, speeding up the game and also bringing more fans in. Another rule they are going to be testing is the ability to give hitters the option to challenge pitches. Hitters can question the call of an umpire in an attempt to swing the call in their favor.