Meet Ericka Ahlheim, financial support & guidance, person center relocated to LLC
USU Eastern's money management center is a resource few students know about and even fewer utilize.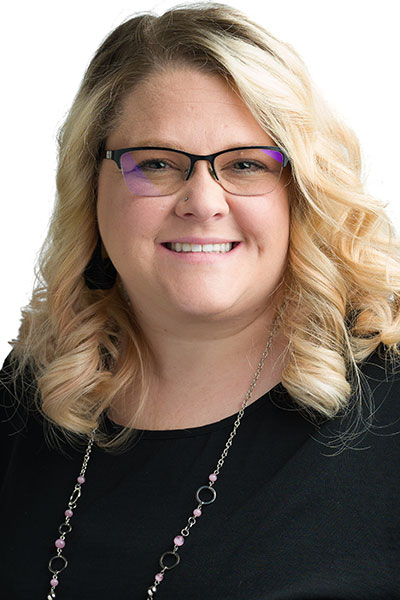 The center is located in the One-Stop- Center and is run by USU Eastern alumni Ericka Ahlheim, the financial support specialist on the Price campus.
Ahlheim originally started working for the university as a student success leader. After she graduated, she took a full-time job in student success, before moving on to federal aid. She worked at federal aid for a number of years before adding money management to her repertoire.
On a typical workday, Ahlheim does three to four financial aid appointments and two to three money management meetings with students that are an hour long. Students can make an appointment to meet one-on-one with her for money management coaching. Students would review spending and earning habits with her to help them create and stick to a budget.
"We go into depth with an amazing system," Ahlheim said. "We talk about what they are spending each month and make a budget. We also talk about what they are bringing in each month."
She helps students to fill out a budget plan spreadsheet during their appointment, and tailors it specifically for the student. They will go over what financial habits the student can improve, she provides action items, and then the student decides what they want to work on.
When the appointment is completed, she sends the student the spreadsheet that they completed together, and it is the students to refer to and use.
"It really gives them a look at their budget and their spending habits," Ahlheim said.
The focus is on tightening the students' spending habits and helping them save the maximum amount of money. Ahlheim said that the most common area students can trim down on is food, specifically eating out, coffee, and spur-of-the-moment snacks.
"I think every student should do this system, and I think they should have it checked every year because sometimes you need accountability," she said.
This system allows students to learn how to create and keep a budget. Having someone to communicate with about the system and finances, in general, is particularly beneficial when they have questions or concerns about following a budget. The goal is to get students through college with as little debt as possible and to teach them how to manage money now, so it is easier in the future.
Money management coaching is an opportunity for students that is covered by their student fees, so they do not have to pay extra money. Ahlheim wants the students on campus to know that she is a safe place for students to go to receive help with managing money.
She said "I am here to help, not to judge."
To make an appointment with Ahlheim, go to the USU Eastern website and click on the costs and aid tab. Under the Financial support heading select Money Management Center. It will bring up a new page where a photo of Ahlheim will be located on the left side.
Under her photo hit the make an appointment button, and you will be taken to a new website where the system will walk students through the rest of the steps.