EU pursues national limelight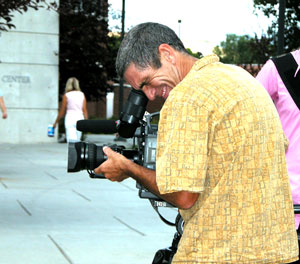 If you saw a camera crew setting up at different locations throughout campus on Sept. 3rd, you saw the makings of a new recruitment video for Eastern Utah.
The Office of Admissions & Scholarships contracted with Premiere TV Productions this year to produce a video. Premiere produces the segments for the National College Review, a program that spotlights college campuses and airs on E! Entertainment Television.
"This is a great opportunity for Eastern Utah to get some national television exposure," said Todd Olsen, director of admissions and scholarships. "The money has never been there in the past. Finally, Brad King and I were able to put the funds together and run with it."
The producer for the segment was Karla Guadamuz from Miami, Florida. She hired a camera crew, more like a "one-man band", Marty Metclaf from Salt Lake City. They were here on September 3rd to gather interviews and footage for inclusion in the script written especially to showcase Eastern Utah and its offerings. Marty continued the next day and shot some additional footage at the Blanding campus and in Arches and Canyonlands National Parks. Admissions & Scholarships will get a 7 minute, 1 minute and a 30-second spot to be used in its recruitment efforts. Also the spot will be put into rotation in the national programs sponsored by the National College Review.
"These spots will be available for all programs on campus to use. We hope to be able to have them in VHS and DVD formats for use at college fairs and presentations. They will also be available for placement on the web page," Olsen added.
So, keep a lookout for Eastern Utah, coming to a TV screen near you!