Moving from teaching high school to college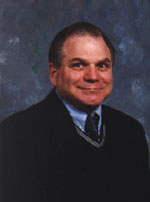 This archived article was written by: Keenan Ryan
Designing chemistry video games, collecting coins and traveling are some of CEU's new chemistry instructor's favorite hobbies.
With a Ph.D. in chemistry and a Doctor of Arts Degree in chemistry, Joseph Chimeno is very excited about being at CEU. "I come from a town with a population of 800 people so I feel right at home in Price," he said.
Chimeno started teaching in the late 60s as a high school teacher and continued for about seven years. "I got out of teaching high school because I felt that I was more of a disciplinary figure rather than a teacher," said Chimeno. He leaned toward business and began working for an industrial chemical company and for about 10 years. "I enjoyed working as a chemist but I missed teaching."
"I wanted to teach chemistry because most of the chemistry teachers I had as an undergraduate student were poor instructors. They knew the material but didn't know how to teach it. Occasionally I would have a good one and I thought to myself that this is a good subject and deserves better so I decided to go into teaching. I wanted to teach it the right way, where the students could understand it. I wanted to take away the mystery and some of the difficulty. Chemistry is a very well organized subject and is not that difficult once you understand the basics," Chimeno explained.
He started teaching high school again and in the evenings would teach chemistry at a local community college in Texas. "I liked teaching at the college. I knew that's where I wanted to teach. I then went back to school and received another M.S. in chemistry," he explained.
From Oregon to Pennsylvania to Iowa, Chimeno has been teaching chemistry. He has developed his own on-line chemical education games designed to help students understand chemisty www.chemgames.com. He is in the process of writing an introdution to chemistry textbook. Although busy with teaching, his number-one priority is to get his wife moved here. She is working in Iowa as a nurse in the local hospital.
"I'm impressed with CEU. I like it here. The people are friendly. The school is supportive of the faculty. The students are very good and they seem to be conscientious of getting their work in. It appears to me that most of the students are hard working and I like that. I'm glad that I am here, this was a good move for me. Maybe I was saving the best for last," he stated when describing CEU.
"I try to make chemistry fun and relate it to the students when I can. I think that it is important to challenge yourself. I try to look at the subject matter from the student's point of view.
Besides teaching, coin collecting and carpentry are some of Chimeno's hobbies. "I like collecting all types of coins and building gives me a sense of accomplishment. Psychologically any time that you have built something with your hands, it makes you feel good; especially if it is constructive. Carpentry enables me to do that. Also I love to travel. I've been in every state except for Alaska and it is coming up soon. My first choice is living in the West. Utah is a good choice," Chimeno explained.