Second generation King hits the recruiting road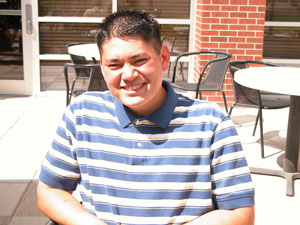 This archived article was written by: Carli Jensen
Skyler King is following in his father Brad's footsteps by taking a recruiting position at CEU. After being an a Ambassador for CEU two years ago and working with the high school relations office he came back to full time work when Todd Olsen, director of admissions and scholarships, asked him if he would like to work here fall semester.
King, an admission's counselor for CEU, travels throughout the state of Utah, parts of Colorado, and Las Vegas with Rebecca Jensen to all of the high schools recruiting prospective students. They go on a high school tour, making presentations and talking to students about CEU. During the tour they visit every high school in Utah.
A major job of the admissions office is to let prospective students know where CEU is. They let people know how qualified our professors are. The college tour lasts from September 2nd to the first week of November. During the tour they go to a different high school every day. Sometimes they attend two schools in the same day.
As part of his effort to increase enrollment, King wants everyone to know who we are and all of the great things that we have to offer a student.
He was born and raised in Price. He graduated from Carbon High School in 2000. After graduating he went to CEU for one year after which he served an LDS mission to Mongolia. When he got back from his mission, he accepted the opportunity to do this internship for the college. The internship is for fall semester and in the spring he will take classes again.
As a business major, he will get all of his prerequisites at CEU before he goes elsewhere to complete his undergraduate work. He said that he would like to get his MBA from Brigham Young University.
The friendly campus at CEU and the fact that his father works here are a few of the reasons King chose to attend this school. He has made a lot of good friends and likes the good feeling he gets when he is here.
Some of the people he really likes are those with positive attitudes. One of the things he dislikes is all of the people who complain all of the time. He believes that we have a lot to be grateful for and that we shouldn't complain about the small stuff.
King has his desk in the scholarship office in the College Center, but with all of the schools he will be visiting in the next few months, he may be hard to reach for a while.