Artist derives inspiration from living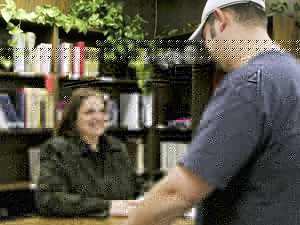 This archived article was written by: Mik Ashby
If Dr. Frankenstein mixed three whites, a Filipino, a little paint, and a lot of Pepsi, he probably would have created Nathan Jensen.
Being 6-feet tall, and one-quarter Filipino is enough to get Jensen noticed in a crowded room. However, the gift that sets him apart from most isn't his physical appearance, it's his gift in art.
Born and raised in the small community of Willard, Utah, Jensen had many hours to experiment with different hobbies.
He tried snowboard-ing, skateboarding, basketball and soccer, and succeeded in all.
He started drawing and found this was the hobby that he truly enjoyed doing and it was the one activity he could do to express the intricate workings of his soul.
Within the year he enered the Box Elder H.S. Art Competition where the judges recognized his talent with several awards, including first place in drawing.
After winning several other competitions, Jensen was offered a scholarship to CEU.
He plans to take a two-year break from college to serve a LDS mission and continue schooling as an art major, get his name known, and eventually become a Jedi, or a world-renowned artist.
"I just figure that I gain inspiration every second, minute and day.
Everyone and everything I come into contact with has an effect on what I will put on paper," making the conclusion that he is obviously an artist in all aspects, mysterious and crazy.
If anyone is questioning Jensen's talent, or would just like to see some of his work, Jensen is easy to spot. Just look for a tall Filipino, wearing a long homemade beanie and ask him if you can see some of his work.
If you are a patient person, there is a plan to have one of CEU's basketball players get a tattoo, sporting one of Jensen's original designs.