Athlete Spotlight: Melissa Disch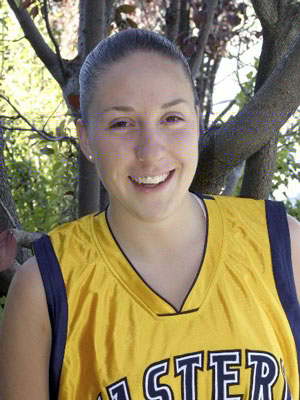 This archived article was written by: Jennifer Jarrett
Melissa Disch has always loved watching basketball. It wasn't until her freshman year in high school that she decided to actually play it. She tried out for her high school team and has been unstoppable ever since. Disch came to Price from Albuquerue, N.M., where she played for El Dorado High School and Manzano High School her senior year. She received numerous awards from her school, valley and newspapers.
She heard about CEU through her best friend Alex Cobb, who also played for CEU. Coach Dave Paur said, "Once Alex told us about Melissa we knew we wanted her. She was playing for another college at that time, and decided to come to Price. I'm really glad that she decided to come." It was a great opportunity, she said, "It was my second chance to play ball again and I am thankful for it."
Her favorite part of playing for CEU has been her teammates. She described them as, "hilarious! They are all little nerds, all of them. They are interesting and fun to be around." Because of her connection with each of the players of the team, Disch was elected Captain two years in a row. "Her first year as captain she was red shirting, that shows alot to be chosen as captain while red shirting," Paur said. "She has brought enthusiasm, spirit and laughs to the team as she steps them up. She is a good player, so fundamentally sound."
"Melissa knows the game very well, she has a sound shot but is willing to pass the ball to her teammates instead of taking the shot. She is very unselfish and knows the game well. She does what is best for the team," Paur said.
This year Disch is full of optimism for the team's final outcome, "I'm looking forward to all of the games in the tournament because we are going to have to work for every win, it will be an intense atmosphere, we have already done great but I expect us to finish the season successfully, hopefully with the league championship."
After CEU, Disch will attend school somewhere in Texas or California to play ball, is majoring in computer science and she would also like to coach.