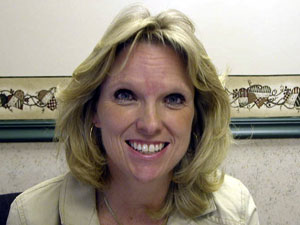 This archived article was written by: Donald L. McCarty III
Nancy Sjorstrom
Sjorstrom is the business manager for food service were she does all the accounting and general management. She has worked for food service since October 2003.
Her food service experience started here last semester. Her favorite part of food service is the opportunity to work with the students and get to know them.
She doesn't even mind the complaints because in the end it helps someone.
Donna Alexander
Alexander is the head cook and in charge of all the product ordering for the kitchen as well as running the day-to-day operations in the kitchen.
She started working for food service at the University of Tennessee in 1984.
In 1989 she moved to Price and started working for CEU food service. Alexander says that working with students makes her feel young. Her favorite responsibility is placing the order and planning menus.
Annette Ryan
Ryan is the inventor behind all the desserts served in the cafeteria. As the baker for food service, she makes sure all the bakery items are ready for caterings and available for lunch and dinner. Ryan has worked in the food service industry periodically since her days at Dees Drive In 13 years ago. She has worked for CEU the last two and a half. She loves working with the students and having fun with them. Ryan loves her job and experimenting with food.
Ruby Vasquez
Vasquez is the night cook and catering supervisor. She is in charge of planning and supervising the dinner meal and setting up caterings. She started in food service as a temporary replacement for her sister as the salad bar prep cook and has been here ever since. Vasquez loves working with the students and teaching them how to meal plan because she has noticed that not many students know how to plan a meal or even cook.
Jonathan Bergthold
Bergthold is the lunch prep cook and friend to the majority of the students who work in food service. He makes the lunch quick fixes like chicken wings, hot pockets and pizzas. He has worked for food service 14 months. Before coming to CEU he was a manager at a movie theatre snack bar.
He enjoys working with the students and inventing new eatable quick fixes.
Rosemary Motte
Motte is the manager of the snack bar, officially named The Golden Grill. She oversees the day-to-day operations of the grill along with the beverage orders and the morning caterings.
Motte started her food service career at Carbon High School in 1972 and has worked for CEU since June 1999. She loves working around the students and the diversity of the people on campus.