Business students help prepare 2003 tax returns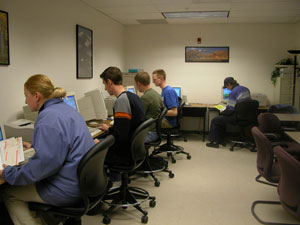 This archived article was written by: Keenan Ryan
Each year, a handful of business students practice their accounting skills by filing income taxes for students and for low income patrons. This year they will celebrate the twenty first anniversary of this service to the College of Eastern Utah and the community.
According to Dr. Henning Olsen, CEU was the first college in the state to offer such a service. Now, many of the other schools in the state offer the same service, but CEU was the flagship institution.
This year there are around 9 students who are helping with the income tax project. "Every year we do about 500-600 tax returns, it's great. We have the same people come back to us every year.
"It is a great experience and opportunity for the students. It allows the accounting students the chance to have a little hands-on experience. It's also a great chance for me to help the students.
"I enjoy seeing them have fun with it," Olsen stated.
Patrons from Carbon and Emery counties and even some established clients from Lake Powell and Salt Lake City are among some of their cliental. They even offer this service to the students of CEU.
The CEU students have all passed the IRS exam and, after completion of an individual's tax preparation, are evaluated by the public on the jobs they have done.
Students receive that acknowledgment, plus a real sense of accomplishment by rendering a valuable service.
Each student receives two-credit hours for their spring semester for their work.
The students each have shifts to work during the week.
"It's nice to have the students do my taxes. I have a busy schedule and it's a relief that I can just have someone else handle that for me. I also like that it's free," Katherine Olsen (CEU student) said.
This service is free if the returns are mailed. A minimal charge is in effect if the patrons choose to file their taxes electronically.
This service is available from 11 a.m. to 1 p.m. Monday through Friday in the Reeves Building.