International students like friendliness of employees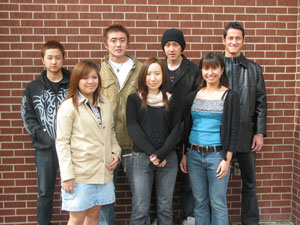 This archived article was written by: B.Hanvey
This semester 19 international students from seven countries are attending classes at CEU. Thirteen students are from Japan (Yusuke Morishita, Hiroaki Nagaura, Reina Hori, Yoshimasa Ito, Misa Sakamoto, Nana Sempokuya, Takashi Sawaide, Takuya Shimora, Yu Takita, Kunitoshi Shinozaki, Masumi Ueda, Fumiko Sugino, and Shintaro Tahara).
Others come from Italy (Marco Biava), Germany (Michael Kirkpatrick), Australia (Anthony Labka), Brazil (Patrick Tkotz), Sri Lanka (Dayna-Nanda Siriwardhana) and Ven-Yip Lima Zhong (from China with Venezuela citizenship). .
Jane Johnson, director of International Student Services, gets the students to CEU legally and make sure that they are in the U.S. legally throughout the year. This process has become longer since the terrorist attacks on the U.S. The students are not able to get visas as easily as before making the process more complicated, she said. Johnson feels that when the students arrive that she knows a lot about them already.
Johnson said, "I have a close relationship with most of the international students. It is such a long process in getting here, that by the time they arrive, I feel I know them very well. We have hundreds of CEU alumni all over the world and many of them keep in touch with me long after they have left. I get pictures of weddings, babies, homes, etc. We also have many students who have CEU reunions, especially in Japan."
Johnson said most of the international students live on campus. All of CEU's international students had good things to say about CEU. Campus life is one of the aspects they have been impressed with during their stay.
All of the students think the people they deal with at CEU are friendly. They think CEU's residence halls are in a unique situation because all of the halls are close to each other.
Another aspect about campus life they enjoy is that everything on campus is within walking distance so it helps to make students feel at home. "Kind of like a home away from home," they admit.
The big question that most people want to know about international students is why they selected Price, Utah of all places to attend college. Biava, said that he chose the Western U. S. because he wanted something that was smaller than his home in Italy.
This would be the first time he would be living away from home and he wanted a place where he wouldn't have to worry much about transportation.
Sakamoto, decided to come to CEU after a recommendation from her English teacher who was from Utah. Other students answered saying they liked the size of the school, the different climates and the cost of schooling.
Understanding why they chose to attend school in Utah also helps to understand why they like it here. Sakamoto says, "Everyone is so friendly here. I didn't have to worry about making friends because everyone says hello to one another."
Most agree that going to school at CEU is a different experience than they would have received in their own country which is why they decided to come to the U.S. to go to college.
Culture shock is to be expected when someone is introduced to a new country. Some of the culture shock these students experienced when they arrived in the U.S. included learning the language, different types of music, food, religion, weather, clothing styles, cost and schooling.
Biava says that one of the hardest things for him to adjust to is the way people dress in America.
In Italy, everyone dresses up. Americans tend to be a little bit more casual in the way they dress. He enjoys it in the states but is still trying to adjust to dressing down.
One of the major culture shocks for the Japanese students is the food. Sources say that although the cafeteria's food is excellent, the Japanese students tend to make a lot of their own food.
Tonight, Feb. 26, the students are hosting an "Around the World Dinner" in the Aaron Jones dorm. Everyone is invited to taste foods that CEU's international students enjoy.
Students have a unique opportunity to become friends with people from all over the world and learn their cultures. The members of the Multi-Cultural Activities Committee would like to invite everyone to join in at the multi-cultural activities.
These activities are held to help students learn about different countries and gain international friendships.