Asa Shreve named Mr. CEU 2004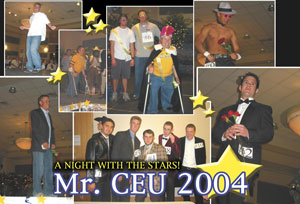 Twelve gentlemen came ready to represent their clubs at the annual Mr. CEU Pageant. They donned formal wear, swim wear and sleep wear. They dazzled the audience with their celebrity impersonations and entertained them with their talents.
Contestants showed off their sparkling personalities through the pageant. Each event brought out an aspect of each contestant that is rarely seen. The sometimes serious and sometimes silly personalities shined through. B.J. Harmon gave us a demonstration of his snowboarding expertise when he showed a video of himself on his favorite slope. Morgan Hampton and Ryan Pinedo each gave a stunning performance at the piano. Hampton chose a classical piece while Pinedo showed his patriotic side. Darrin Railsback gave us a lesson in golfing, and Mark Oveson pulled at the judges heart-strings with his song about "Mamma Kitty".
Wylee Merrill roped "cowgirl" Megan MacKay, with the spirit of adventure Alma Sweeny saved Shirley Shreve from purse-snatcher Hernando Perez. Wylie Thomas left all the women swooning when he waltzed out in his bathing suit and after that we became aware of Colby Major's dark side when he sang his song about stalking. Hernando Perez strutted onstage wearing his "barely" there formal wear. Keenan Ryan's fantastic display of drum playing left the crowd wanting more and Asa Shreve gave a magical display for music video performances.
There to give support to the next leading man was the reigning Mr. CEU 2003, Maxwell Acheampong along with his new wife Abagail. Acheampong is a student at Weber State University where he is pursuing a degree in criminal justice.
All good things must come to an end and it was a beautiful ending to a beautiful night when the Mr. CEU royalty was announced. Taking the title for the best legs was (drum roll please … ) Wylee Merrill. The nicest guy at the pageant, according to the other contestants was B.J. Harmon, Mr. Congeniality. The second attendant was Keenan Ryan and the first attendant, Alma Sweeny. Named Mr. CEU 2004 was Asa Shreve from West Valley.
Judges for Mr. CEU included: Curt Icard, Carrie Icard, Greg Borman, Bill Osborn and Kelly Stephens.