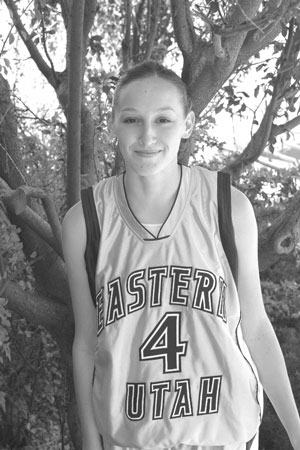 This archived article was written by: Jennifer Jarrett
Chelsey Warburton started playing basketball, as a young girl. She said, "Playing in my backyard, shooting hoops instead of doing chores is how I started. My parents played basketball too." She is the daughter of John and Stacy Warburton, from Helper, Utah. She is one of six children and has become who she is today through the inspiration of her family.
Warburton played for Carbon High School and received honors as, Athlete of the Month, Athlete of the Week, All State, and 1st team all region. She decided to come to CEU after being offered a scholarship to play and being around the school all her life. Also two of her sisters attended and played basketball here. This past season, Warburton was able to play with her older sister Cassie. The two had amazing team work and a bond that was seen by all who watched them play. Cassie said on her younger sister, "She is what got me started in basketball we have played together on Jr. Jazz, junior high, and high school teams. She is such a hard worker and never gives up. Especially during her senior year, after she injured her knee, she was recovered in five months. She has an amazing talent and love for the game. I feel like we play better together on the court because we know each other better. It has been fun playing together and working together with the team."
Warburton's favorite part of playing for CEU has been the girls that she plays with and the coaches. "Our team got along well for the most part," she said, "this is the funniest team I have ever been on. Our team is good." Warburton's teammates seemed to have only good to say about her. Kodi Hess said, "Chesley is an awesome team player, she is fun to be around, a real people person, she is very positive and always nice. She always played her hardest, during practice and games and has a very consistent three point shot." Jared True stated, "She was good at her three pointers, I saw her as the leader of the team. When she was on, that's when he team did the best. She played good defensive, stole the ball a lot, but also had nice moves on the offensive end. She was just good."
The most important thing Warburton has learned from Coach Dave Paur has been, "You'll only be as good as the time and effort you put into it." Warburton is majoring in criminal justice and is playing ball and schooling at Weber State next year.