SUN Center's Trick-or-treat for food
For the past seven years, CEU students have donned their Halloween costumes for an evening and covered
Price, collecting food to be donated to the Carbon County Food Bank. Called "Trick or Treat for Food" the
students collect an average of 11 tons of canned food that night. According to Kathy Murray, SUN Center
director, the local food bank counts on CEU's annual canned goods drive to help those in need. Students
should meet in costume in front of the Bookstore in the JLSC on Saturday, Oct. 30 at 4 p.m They will be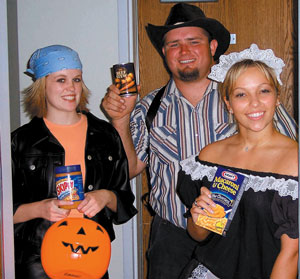 For the past seven years, CEU students have donned their Halloween costumes for an evening and covered Price, collecting food to be donated to the Carbon County Food Bank. Called "Trick or Treat for Food" the students collect an average of 11 tons of canned food that night. According to Kathy Murray, SUN Center director, the local food bank counts on CEU's annual canned goods drive to help those in need.
Students should meet in costume in front of the Bookstore in the JLSC on Saturday, Oct. 30 at 4 p.m They will be
assigned different areas of Price to canvas. All participants meet back at the student center with their food donations at 7 p.m. where sloppy joes and hot chocolate will be waiting for them.