Medical essentials provided by H & W Clinic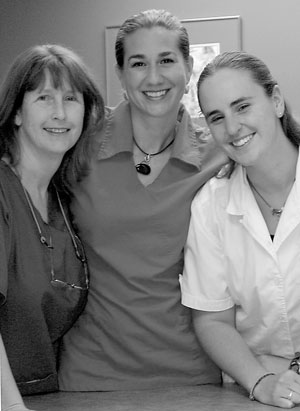 This archived article was written by: Chari Jelsma
The College of Eastern Utah's Student Health and Wellness Clinic is on campus to provide most of the medical essentials necessary for students, faculty, staff and the community.
Danielle Pendergrass, director of the clinic, does whatever possible to make patients feel comfortable when they visit the college's clinic.
"Don't hesitate to come in and ask any question," Pendergrass tells patients. "Our staff is friendly and everything we talk about is confidential."
The confidentiality is just one benefit of the on-campus clinic. The expertise of the medical staff is also a reason the clinic is beneficial for patients.
With her expertise in medical knowledge, Pendergrass is able to diagnose and treat many different ailments, from the common cold to a sexually transmitted infection, while still being able to make patients feel comfortable in receiving treatment from the clinic.
The clinic is equipped to handle most of the medical needs of patients, along with providing health-related supplies that can be lended to students who need them. These supplies can include vaporizers, crutches, cold gel packs and others.
They also can provide students with educational videos, books, research articles, presentation materials and display boards that can teach students about different health-related ailments and conditions.
Services the clinic is able to offer patients include diagnosis of health problems, treatment and writing of prescriptions. They also offer sexually-transmitted infection testing for both male and female patients.
Another great benefit of the clinic is the availability of all forms of contraception to students. Students can use the clinic to receive aid with any of their birth control or contraception needs, including condoms, pills, Depo Provera, Nuva Rings, patches and Intrauterine device's or IUD's, all available for $25 or less. The clinic does not provide abortions to students.
"We have every birth control available for students, Pendergrass said. "Birth control prices depend on a student's ability to pay. Studies have shown that delaying of pregnancy is directly related to the poverty level.