Perez brings his eclectic talents to CEU
Changing teaching careers must have seemed attractive to Elias Perez, who after 13 years of teaching high school joined the College of Eastern Utah as its new drafting, machine shop and Spanish instructor.
Perez taught woodworking, or cabinet making, Spanish and drafting at Carbon High School and was the head coach of the track and cross-country team eight years. The father of two sent his eldest son to the LDS Tucson, Arizona Mission only a week ago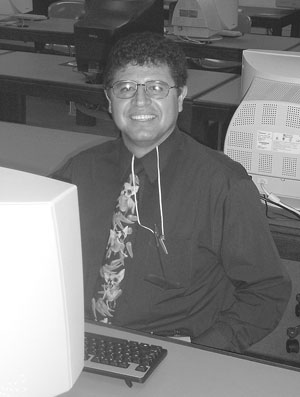 This archived article was written by: Allie Mangum
Changing teaching careers must have seemed attractive to Elias Perez, who after 13 years of teaching high school joined the College of Eastern Utah as its new drafting, machine shop and Spanish instructor.
Perez taught woodworking, or cabinet making, Spanish and drafting at Carbon High School and was the head coach of the track and cross-country team eight years. The father of two sent his eldest son to the LDS Tucson, Arizona Mission only a week ago
Raised in beautiful Puebla, Mexico, about 60 miles southeast of Mexico City, Perez was the middle – "six up and six down" – of 13 siblings. "Everybody thinks it's kind of hot and muggy down there, but I grew up in high altitude, where it's green and nice." Visible from the city is Popocatepetl, an active volcano that periodically spouts water and ash.
Initially, his family was excited for him to attend college in the United States, as his plan was to return to Mexico with a degree in administration and work as a principal. He did move back with his wife for a short time, but made the decision to return to Price.
He first learned of CEU when he was a high school student. His high school track coach, who knew the coach at CEU, told him about the Price school. The coach offered him a track scholarship, which brought him to the United States. "We held our own," competing against such schools as Ricks College and Brigham Young University. He earned an associate's degree and applied technology certificate.
The most significant difficulty he experienced upon arrival to the U.S. was the language barrier. Unable to speak any English, Perez had to overcome this challenge quickly. Also, "everything" about the culture was different.
As a course or a club, he would love to share one of his hobbies with students of CEU: guitar making. This is a skill he learned from his father as a boy and has continued for years, making one to two guitars a year. "This would be a great class for the college … and a release from work" and stress for students.
Perez's objective was always teaching or administrating, but his focus was primarily "basic education." Throughout the years, he has evolved and many of his passions and creativities have become the center of his career.