Shaw named disability resource adviser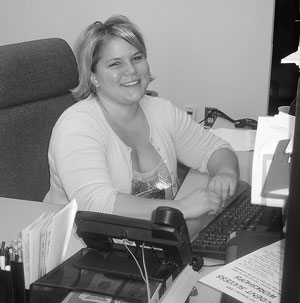 This archived article was written by: Nick Critchlow
If you see the happy-go-lucky woman in the Disability Resource Center, it would have to be the new adviser Kelli Roper (soon to be Mrs. Kelli Shaw), the new Disability Resource Advisor at CEU.
Besides graduating from CEU in 2003, she graduated from Southern Utah University in May of 2005, with a bachelor's in science with an major in communications, and a double emphasis on inter personal and public relations. Roper was born in Salt Lake City, raised in Portland, Ore., and lived for a couple of years in Palm Springs, Calif. She moved to Utah when she was 20, because her mother lived here and had a job at CEU. The main reason she moved back is the free rent and tuition, plus it sounded like a good idea at the time.
Kelli was formerly an office assistant, until being named the advisor for the Disability Resource Center. She started her new position in mid July 2005. As CEU's Disability Resource adviser, she helps students with disabilities to get through the orientation process for school. This includes finding what to do to accommodate them, getting their class schedules, and writing letters to instructors to let them know the standards that they need to abide by in the classroom. She really enjoys her position so far, "When I got here, it was really slow and there was not a lot of students on campus so I rearranged the office and decorated it because it looked too much like a doctor's office," she said.
The future Mrs. Shaw has the CEU staff saying some nice things about her. "She is a fun with it, kind a gal. She just loves to help people and is very conscientious. She also has a smile that just lights up the room", says Kathy Murray, director of the Student Center. "She has done a really good job for us, considering she did not have a whole lot of experience, but she has been a really valuable asset to us", added Mandee Krajnc, ATOD Prevention coordinator.
If you are a student with a disability ranging from serious or chronic illness to visual impairment or blindness and need help, contact the Disability Resource Center at (435) 613-5670.