Men's basketball team finishes fourth in region
The men's basketball season came to a close, after a good run in the season, making it to the semifinals in the SWAC tournament. Placing sixth in conference play, the Eagles drew the fifth seated Snow College for their first match up.
The tournament began for CEU against the Badgers who had struggled most of the season under first year head coach Roger Reid.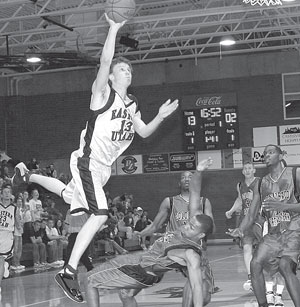 This archived article was written by: Robert Hanson
The men's basketball season came to a close, after a good run in the season, making it to the semifinals in the SWAC tournament. Placing sixth in conference play, the Eagles drew the fifth seated Snow College for their first match up.
The tournament began for CEU against the Badgers who had struggled most of the season under first year head coach Roger Reid.
The Eagles attacked quick and hard, being lead in scoring by John Rogers, who tossed up 20 points in the game. Also leading the team in rebounds, Rogers made sure that the Eagles would proceed to the semifinals while they walked all over the struggling Badgers. Victory was achieved with a convincing 83-67 win in the first round of regionals hosted by North Idaho College.
The league-leading College of Southern Idaho Eagles was the next to take on the CEU Eagles. Racking up 24 points Tyler Kepkay, as well as Tate Sorenson with 17 rebounds, played hard for Eastern Utah, but in the end the ever-dangerous Southern Idaho team came out ahead 103-92, ending a great season for the Eagle men and giving them a fourth place finish in region.
CEU struggled to keep up with the talent and intensity of the Southern Idaho team throughout the game, but never could close the scoring gap.
The CEU players named to All- Region honors included Tyler Billings, first team All-Region. Tate Sorenson and Mike McCrary both accomplished second team All-Region and Sorenson forged his way to the All-Tournament team in the region.
The team's sophomores: John Rogers, Tyler Billings, Tate Sorenson and Mike McCrary will not return, but according to Coach Bryan Zollenger, "We're losing a handful but the vast majority are returning." The coach said about the sophomores, "They were an extremely good group to work with, it was a pleasure to work with them."