CEU cafeteria serves down-home Southern style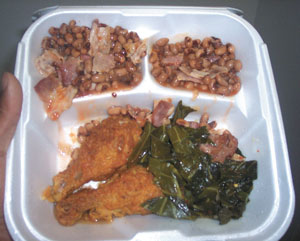 This archived article was written by: Marco Dansbery
Most of the time people are complaining about the food in the cafeteria. I'll admit, I was guilty of it too. That will never happen again though, you'll never hear from me again, about the cafeteria and I don't care how crappy it gets because of one beautiful night at the café.
A couple of weeks ago, the nice lady in charge of dinner asked me and a couple of other guys if she made fried chicken, black eyed peas, and collard greens if we would eat it. I believe my response was something to this effect ,Man, hell yeah I'll eat that, I for one didn't really think that she would cook it. At first I thought she was just trying to be funny and crack a joke.
So you can only imagine my surprise, when one day I'm walking by and I see the dinner sine and it says; fried chicken, collard greens, black-eyed peas and corn bread. I almost lost my mind. I basically ran in Emmet's Cove and grabbed a tray, and starred at the food. Let me say in two years, I had never been so excited to be in the café no matter what they made. I was doing all this and I hadn't even tasted it yet. I remember telling the server to just give me everything and I have never done that before. A lot of the other students didn't know what collard greens were, at first I didn't think that they weren't serious, but they really didn't know what they were and I thought that was funny. I was thinking to myself while I was waiting in the line, that this didn't even have to taste like my momma's fried chicken, peas and collard greens. It didn't matter, I was thinking this has to be historic at the CEU café. In no other time in history could they have ever served this, and I was almost scared that they would never do it again, so even if it was horrible, I wasn't going to say it was.
I sat down with that tray grabbed, the lonely bottle of Tabasco sauce that sits in the cafeteria every day, and went to work. At that point I was even more surprised, it was actually good. It wasn't my grandmother's or nothing even close but I knew that was too much to ask for. The corn bread was really good and so were the black-eyed peas, I just couldn't believe it, why can't it be like this every day? After I finished my plate, I did something else I never did, I went back into Emmet's Cove and got some more, and put it in a "to go box".
First I had to let the dinner lady know how much that was appreciated. I did everything short of kissing her on the way out. Now every time I see her I'm like a little kid so asking her when is she going to cook it again. I didn't even eat lunch the next day I just ate the rest of dinner from the last night and it was almost better than the first day. It was so good I had to call my momma and tell her. So for all the heat that the cafeteria gets, I can say one thing because of that meal I had that day, they will never get never get any more complaints from me.