Gallery East features CEU's best student work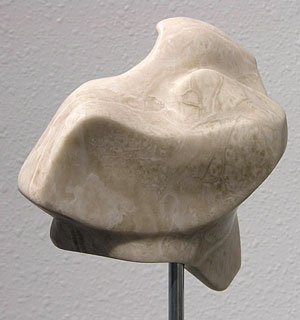 The College of Eastern Utah Art Department annual student exhibition, showcasing more than 80 works of art in a variety of media. Painting, drawing, printmaking, sculpture, ceramics, graphic design and photography are all well represented in the show which runs through April 28.
Pieces in the exhibition were chosen by faculty members of the art department from an initial pool of more than a hundred entries. Robert De Groff, director of Gallery East, notes, "I am very pleased with the quality and diversity of the show. I may be slightly biased, but I find the prints in the show to be especially satisfying. The prints in particular transcend the parameters of in-class assignments and become autonomous works of art."
Art Department Chair Cliff Bergera attributes the high quality of this year's show to a particularly talented group of students and adds that this year's exhibition "is as good as we've ever had." The highlight of the opening reception on Friday was the announcement of the awards, which totaled more than $500.
De Groff explained that the awards were chosen in a "more or less democratic way." Each faculty member submitted a list of proposed winners to De Groff, who then tallied the votes and ranked the award winners based on the number of votes received and the position of each vote (a vote for Best of Show outranked a vote for third place, for example.) In addition to the ranked awards, each instructor in the art department chose a piece that he thought was exemplary for his area. Students have also sold many pieces in the show; at the time of writing this, 12 pieces have sold.
Gallery East, located in the northwest corner of the old SAC building, is open from 9 a.m. to 5 p.m. Monday-Friday and is closed on weekends and school holidays.