Sun Center volunteer spotlight
What do you get when you cross a hot dog and a backhoe?   A hot-diggity-dog.   That's what you get when you cross Adam Peterson and Meg Gardner.   Peterson is as popular as a hot dog and Gardner really likes to dig into service.
Peterson comes to the SUN Center from Provo/Pleasant Grove (he couldn't choose between the two).   He is working towards an associate's of art with an emphasis in Spanish degree.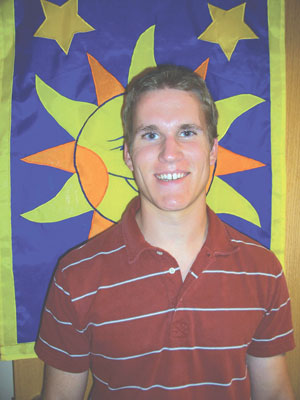 This archived article was written by: Amanda Mair
What do you get when you cross a hot dog and a backhoe?   A hot-diggity-dog.   That's what you get when you cross Adam Peterson and Meg Gardner.   Peterson is as popular as a hot dog and Gardner really likes to dig into service.
Peterson comes to the SUN Center from Provo/Pleasant Grove (he couldn't choose between the two).   He is working towards an associate's of art with an emphasis in Spanish degree.  
He first got involved with the SUN Center because "It's where the good stuff is."   Peterson is the SUN Center leader over environmental projects this semester which is a fitting project for him because one of his favorite things to do is clean, in any form.  
When talking about service, Peterson's attitude is much like Oliver Twist's, "please sir, I want some more."   Peterson is excited to be involved in the SUN Center and to help in any way possible.   He would love to see you come out and work on making our environment a better place.
Peterson has many talents, but among his favorite is his ability to harmonize vocally with any melody.   As a person who has witnessed his sonorous voice, I can tell you that this is true    
Gardner comes to the College of Eastern Utah from "the sticks," as she likes to call it, but for the rest of us it's Altamont.   She is the second of three children, but assures us that she does not suffer from middle child syndrome.
She started as a SUN Center volunteer, but finally plunged into the pool of leaders, where she is more than treading water.  
Gardner has taken to her leadership responsibilities at the CEU Prehistoric Museum like a fish to water.   She enjoys working with all who come to the museum, especially the kids.  
"There's nothing like seeing the learning actually take place on a child's face.   It literally is like a light bulb exploding over their heads."    One of Gardner's goals for this year is to get more people to visit the museum.
Gardner is a woman of many talents, some of which include: photography, singing, cooking and being an awesome friend.   She is a fine connoisseur of movies, her most recent favorite being "Pirates of the Caribbean 2."