Webmaster plans to improve professionalism, usability of site
Look for changes on the College of Eastern Utah's web pages in the near future because Tom Weidner, the newly appointed web administrator, plans to improve the professionalism, usability and consistency of the CEU site.
Growing up in Salt Lake City, Weidner earned his bachelor's degree at the University of Utah in computer science. At the time of his graduation, computer science was a new major with few people having knowledge in the field. "I was intrigued with it because it was absolutely brand new with no one having much knowledge about the field," he said.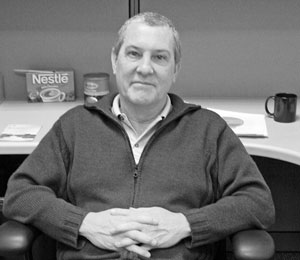 Look for changes on the College of Eastern Utah's web pages in the near future because Tom Weidner, the newly appointed web administrator, plans to improve the professionalism, usability and consistency of the CEU site.
Growing up in Salt Lake City, Weidner earned his bachelor's degree at the University of Utah in computer science. At the time of his graduation, computer science was a new major with few people having knowledge in the field. "I was intrigued with it because it was absolutely brand new with no one having much knowledge about the field," he said.
After graduation, he was recruited to work on his master's degree at Ohio State University in computer science.
He spent the next 30-plus years in software development, software support and web development for Unisys. He moved from Utah to Ohio to California, to Germany back to California several more times and finally ended his career with Unisys in Virginia.
Weidner managed the web development group at Unisys responsible for all product support related sub-sites.
He did take a four year break from Unisys while living in Europe to consult for a German firm at Siemens.
Weidner has a passion for football (soccer) and attended games as often as possible while living in Europe. "My son played professionally for a German team so I got to watch 'real' soccer. I've never been excited for American soccer because its quality is no where near what one sees in Europe or South America." His favorite team is AC Milan based in Italy and he watches them regularly on cable. "My daughter played for BYU upon our return from Germany."
Weidner's first plans for CEU's web pages are to move towards the newest Microsoft web technology (asp.net 2.0), and to use the latest Usability testing results to achieve a professional look and feel that can be used to promote the college. CEU's pages are quite typical of most college and university pages: many people designed them without much coordination, he said. The new pages will have a professional and consistent look that makes the site appear as though it represents a single inter-related group of entities.
He said he moved back West to be closer to his family, even though he only has distant relatives in Utah. The father of five, his children live in Colorado, California and Ohio.
Some of his favorite things to do in Utah are hiking and living in the small community of Price with his wife.
His advice to students getting ready for the businessworld can be summarized in this picture from his favorite web site: despair.com/mis24x30prin.html