Alumni and friends of CEU honored at Founder's Day celebration
The 70th anniversary of the founding of the College of Eastern Utah was celebrated Saturday by honoring alumni and friends of the college. Almost 300 people attended the ceremony that heard the college's ninth president, Ryan Thomas, acknowledge and appreciate the loyal alumni and community members who contribute to the college's future success.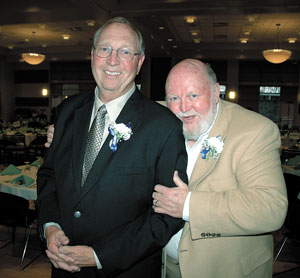 The 70th anniversary of the founding of the College of Eastern Utah was celebrated Saturday by honoring alumni and friends of the college. Almost 300 people attended the ceremony that heard the college's ninth president, Ryan Thomas, acknowledge and appreciate the loyal alumni and community members who contribute to the college's future success.
"We appreciate your generous contributions to the scholarships fund. Even more important are your children, grandchildren and great grand children who come to CEU and benefit from the same first-class personalized education each of you received when you attended," Thomas said.
The 2007 Gold Circle donors included Marc C. Bingham, Donna Vee Forsyth Christensen, Jeanette I. Embry, Grant & Betty Fausett, Shirley W. Thomas and the family of Rhea and Perry McArthur.
Over the past 20 years, nearly 150 donors donated almost $3 million in endowments and annual scholarships via the Gold Circle. They each received a bronze Eagle for their contributions.
Named to the Athletic Hall of Fame was Angela Ross Arnold. A native of Provo, she attended Timpview High School where she was a starter on the varsity team her freshman year. By the time she was a senior, she was named to the All-State Basketball Team and holds the record for the all-time leading scorer. She also played doubles tennis where she was the state champion three years.
She continued her basketball career at CEU where she played point guard. While at CEU she was the first woman athlete named to the NJCAA All-American and continues to hold nine records.
After CEU, she continued her education at Brigham Young University where she graduated with her education degree. She next joined the coaching staff at Timpview High School and led the team to its first state championship.
Brothers Douglas L. Powell and Clark "Curley" Powell were inducted into the Athletic Hall of Fame. Natives of Price, both were outstanding athletes at Carbon High School.
Doug played basketball under Coach Jack Woodward in '59-'60 where his team entered the state playoffs with a 17-2 record. He finished as one of the top scorers and named to the Salt Lake Tribune's Class-A All-State team.
He lettered in football, basketball and track.
At Carbon College, he holds the third highest scoring average with 23.3 points per game, and a career-scoring total of 901 points, named All-Conference First Team and NJCAA All-American honorable mention. He next played at Weber State University for (future NBA coach) Dick Motta and graduated with a bachelor's degree in business administration. After 35 years in the insurance field in California, he retired in 2001.
Curley played for Carbon High School ('50-'52) during which the Dinos won state championships in football, baseball and consolation in basketball.
At Carbon College he played football and was named All-Conference end, both on offense and defense. In basketball he played point guard.
His love of athletics continued when he entered the U.S. Marines. After completing tours of duty in Korea and Japan, he tried out for the Marine Corps basketball team where he was starting guard. Three of the four starters were college All-American players. He also played for the Marine Crops football team where he was starting left end and named to the All-Marine team. He also played on the '56 Navy championship softball team. He is a successful real estate developer and entrepreneur.
A distinguished alumni award was given to Steve "Rocky" Johnson. A native of Price, he graduated from CEU in 1973 and finished his bachelor's degree at BYU.
He joined Simmons Media in '79 as an account executive, appointed general sales manager in '81 and named vice president/general manager in '90. In January 2007, he was named president of Simmons Radio Group, in addition to serving on the senior management executive committee and being a company shareholder.
Johnson is assembling another radio station cluster in Salt Lake City including X96, The Zone 1280 AM, Utah Eagle 101.5, Jack 103.1, Oasis 97.5, Movin' 100.7, KALL AM 700, KOVO 960 and KXOL 1660.
He served as president of Salt Lake Market Radio Broadcasters Association, president of Westridge Academy for Boys and Girls and on the board of the Utah Broadcasters Association. He has coached youth sports for two decades and worked with the Road Home, Mothers Against Drunk Driving, The United Way and Utah Food Bank. He has taught media and marketing classes for BYU and the U of U.
Kory D. Judd is a native of Price and graduated from CEU in 1982. A chemical engineering major at the U of U, he was valedictorian of his class. He began his career at Chevron and 20 years later, is Asset Manager of the largest Chevron U.S. Refinery, located in Pascagoula, Mississippi.
Actively involved in Boy Scouts of America, he also has devoted 15 years to youth sports programs of little league and Babe Ruth baseball.
Another distinguished alumni award was given posthumously to Gene Tobey. Tobey died at 60 in 2006 and was best known for the stylized animal sculptures with his trademark line drawings incised into the surface.
A '62 graduate of East Carbon High School, his ambition was to be an illustrator. He accepted a baseball/football scholarship to CEU and during his first semester, took a sculpture class. He was hooked and enjoyed the hands-on aspect of creating sculptures.
He continued his education at USU, earning a bachelor's and master's degree in fine arts. He taught at Casper Community College and Linn-Benton College.
In 1985, he moved to Santa Fe. N.M., where he pioneered large, brightly colored ceramic animals. In the '90s, his work shifted to bronze sculptures with lively, innovative patinas. The bronzes run the gamut in size from the smallest three-inch buffalo to a 15-foot standing grizzly bear.
Another distinguished alumnae honored was Mary Cristelli Rynio, the "Energizer Bunny" in Rock Springs, Wyo.
Born in Castle Gate, she attended the local schools. Her college career included Carbon College, BYU, U of U and the University of Wyoming.
Her career includes teacher and principal of the Latuda mining camp school, principal of Rock Springs' Catholic School. She introduced Dwight Esenhower's physical fitness program in public schools, founded area civil defense shelters, was a leader of Wyoming Federation of Clubs, worked on the Governor's Crime Commission, served on Western Wyoming College Board and started youth center for teenagers. She served on the city's recreation board, charitable leadership for multiple sclerosis, March of Dimes, Cancer and instigator for the historic museum in Rock Springs.
One of her most significant impacts to Rock Springs was her legislative crusade to reimburse residents for damage to homes that were caused by the underground mine shafts that run under the city. Its residents were paid $56 million.
The final distinguished service award was given to Charles and Christy Ackerson of West Valley City, parents of nine children, eight of those children having attended CEU. The college felt it was time for the Ackersons to become honorary alumni and for being such great roll models for their children.