Lady Eagles start strong, but fall again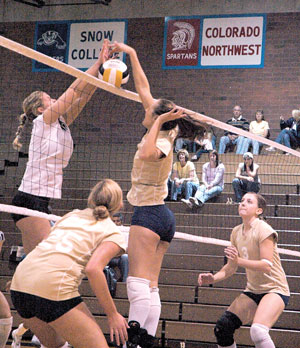 This archived article was written by: Riley Spears
The Lady Eagles have shown the best of times and the worst of times, but no one knew what team would show up to face North Idaho at the region championship. The women knew they would have to play their best game to beat NIC who took both the wins in the regular season.
The women came out in the first game and showed everyone that the still had a chance to go on in the Region 18 tourney. The women won that first set with a score of 27-30 and seemed to shock everyone. "I was obviously pleased with winning game one and thought we had a good game plan. But when NIC turned it up a notch and made adjustments, we couldn't maintain our level of play and that was disappointing," Coach Brent Martindale said.
The CEU women may have won that first game, but could not sustain momentum and lost the next three rather badly. CEU could not stop the play of Cardinal Whitney Tucker, who had 16 kills against the Eagles. NIC had three players in double digit kills.
In the second game NIC came out showing they were not impressed by the first game and took the second game without a fight and a 30-13 thrashing of the Eagles, just a start to what CEU was getting into.
The third game was a lot of the same with the women from Idaho, again, not letting CEU get into the game, winning 30-17.
In the last game of the set the women lost their chance to go on in the region tourney losing again 30-13. That was the story for all the girls this year not getting anything going in the last games . "Our freshmen played very well, and really carried us. Marissa and Amber have been coming on real well these last few weeks," Martindale said.
CEU was led offensively by freshmen Amber Kohler with eight kills and three blocks, Marissa Crookston with seven kills and four blocks, and Karissa Law with seven kills. Sophomore Kindra Romney had 20 assists, four kills and two aces.
"Our sophomores have been strong all season, and we will miss having these players on the floor. They represented our school well, and did a great job helping this team," Martindale said.
Later that day, CSI crushed CNCC. The next day CSI defeated NIC and will represent the north region at nationals.