Eight games, four wins
With another month to go before their next home game the Lady Eagles have the opportunity to see what they are made of as they face tough opponents on the road. Will they become more refined and tougher, or will the heat be too much for them?
On Nov. 15 the Eagles played Miles City Community College in Casper, Wyo., and received an old fashioned whipping 91-64. The Eagles shooting went cold and the usually precocious defense was MIA. "They ran us off the floor" said Coach Dave Paur, "it's that simple."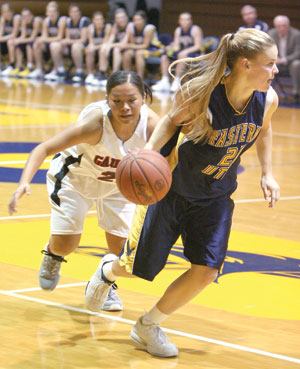 This archived article was written by: Scott Frederick
With another month to go before their next home game the Lady Eagles have the opportunity to see what they are made of as they face tough opponents on the road. Will they become more refined and tougher, or will the heat be too much for them?
On Nov. 15 the Eagles played Miles City Community College in Casper, Wyo., and received an old fashioned whipping 91-64. The Eagles shooting went cold and the usually precocious defense was MIA. "They ran us off the floor" said Coach Dave Paur, "it's that simple."
The Eagles were outscored in the paint 52-24 and allowed two Miles College players: Ashley Oliver and Marta Micula to get 20 points each.
Miles College defense was also tough, they limited or shut down everyone on the Eagle's team except Amber Strong. The freshman Strong continues to impress picking up six field goals … four of them three pointers for 16 points.
Kendra Dalebout, Veronica Siqueiros, and Rachel Rasmussen almost got into double digits scoring nine, eight and seven points respectively.
Dalebout was perfect from the line going four for four, as was Maquette Potts who went two for two. Rasmussen was perfect from the field sinking three for three, one of them beyond the arc.
"Our shooting was cold," said Paur, we can't expect to win games when we shoot 27 percent and let them shoot 51 percent.
The next night had the same outcome but was a different story. The Eagles fell to Sheridan College 80-90 in a much closer game than the night before. Killing the Eagles again however was not getting their shots to drop. "We missed 27 lay-ups and shot 28% while letting Sheridan shoot 50 percent" Paur said.
The previous game must have been a wakeup call for Dalebout … she caught fire scoring 25 points and stiffened up her defense with four steals. She also grabbed five rebounds and nearly went perfect from the line again dropping in four out of five.
Siqueiros and Brandi King also got into double digits scoring 15 and 12 points respectively.
The Eagles had better stats in many categories, they had more shot attempts, three-point field goals, rebounds, and steals, but just couldn't get their shots to go in.
The next night, Nov. 17, the Eagles were in the same building in Casper, Wyo., and faced the Casper College T-Birds. Again because of poor shooting the Eagles fell 60-61.
This one came down to the wire. With time running out and a two-point lead the Eagles thought they had this one, but the T-Birds were not giving up. They got the ball in bounds and shot a three pointer as time expired to win the game.
Like the night before the Eagles led in nearly every statistical category and could have come away with a win. The T-Birds only shot 30 percent but the Eagles were ice cold at 23 percent and let this one slip away.
Erin Richardson led the Eagle scoring with 12 points followed by King with 10. King also had six rebounds, an assist and five steals for a nice all-around effort.
Nov. 23, the Eagles faced an 8-0 Otero team at Colorado Northwestern Community College. The Eagles re-discovered their defense limiting Otero to 20 points under their average. With a revived defense and with their shooting warmed up the Eagles handed Otero a 56-80 loss.
Nearly every player scored for CEU with the sophomores leading the way. Dalebout and King got back into their grooves and scored 15 points each. Richardson and Morley added eight points each for a nice effort by the veteran players. The freshman also showed they could get it done with Siqueiros and Strong getting nine and seven points respectively.
The next night the Eagles ran into one of the best teams Paur has seen in his 19 years of coaching and fell 64-82. "The South Plains College Lady Texans are the quickest team I have ever played against, you will see #35 Mariame Djouara in the WNBA," Paur predicted. "She has a 36-inch vertical leap and is quicker than any guard I have seen."
Interesting to note about South Plains, they were coming off a huge win at Seward Community College, the number-one team in the nation. Before that game Seward CC had not lost a home game since 1991.
Leading the offense was Dalebout with 15 which included three threes and a perfect two for two from the line. Not far behind were King and Siqueiros each with 11. Kasey Day also had a nice game with five points including a three-pointer, six rebounds and a couple steals.
On Nov. 29, in chilly Twin Falls, Idaho, the Eagles shooting warmed up as they iced the Southern Idaho All Stars 78-49. "It was a close game until they got tired," Paur said.
If the Eagles' practice last Monday is any indication of how hard these ladies ran in the game its no wonder the All Stars couldn't keep up. "Ball right here," Paur barks as he points to a place on the floor, simulating where the ball would be in- bounded under the basket, all five players rush to their assigned places. He quickly points to another spot on the other side of the floor "ball right here" Paur shouts again, and again the members of the team rush to their appropriate positions. "Dribble" he says at which time the guards bolt to midcourt met by one of the forwards trapping the simulated opponent at midcourt.
Every CEU player but one scored in this game with Richardson leading the way with 12. The sophomore guard had a nice all- around effort draining a couple threes, going a perfect two for two from the line, grabbing two rebounds, dishing an assist and getting a steal.
Nikki Callister also had a nice game getting 10 points, including two threes, two rebounds, an assist and a steal. And all this in just 12 minutes of playing time.
King made her presence known with nine points, a rebound, one block, and three steals. So did Potts with seven points, four rebounds, four assists and a steal.
Freshman Kasey Day had a nice game getting seven points, three rebounds, an assist and four steals. Speaking of steals Janzyn Johnson had five to lead all stealers and the team had 25 steals in this game. In fact all but two players had at least one steal in this game compared to seven steals by the All Stars.
The next night the Eagles took on Columbia Basin College and won 87-76. Paur changed up the starting five in this one giving Johnson the nod. Columbia Basin stayed with CSI last weekend so we knew we had our hands full Paur said.
The team may not have heard though because they never let CBC get ahead by more than one point. Four of the starters Potts, Strong, King and Dalebout got into double-digit scoring. Dalebout led the scoring for the Eagles with 19. Her and King each hit three threes with the team knocking down 12 threes in the game. Dalebout is one of the best players in the country right now Paur said, she could go to the next level.
Dec. 1 and for the third night in a row the Eagles were on the court running another team ragged. The victims this time were the Treasure Valley Community College Chukars. The Eagles won this one easily 66-45.
The Eagles balanced offense and smothering defense were again the reason for their third win in a row.
Ande Miller led all scorers in this one getting one two point field goal three threes and a couple from the charity stripe. She also picked up an assist and three steals. Siqueiros also got into double digits picking up 10 points three assists and a block.
This Eagle team is quick, when a team is able to get 20 or 25 steals a game, which they have done at least three times in preseason, you know they are getting a step on their opponents. Potts had a run at the single game steals record which was set by Rebecca Elison in the 94-95 season. Elisons record is 10, Potts had seven in this game. And by the way, the single game team steals record is 35 which was set back in 94-95. If this team continues to play the kind of defense they are capable of … maybe we will have a new record this year.
Much to the chagrin of Paur, the Eagles will be on the road this weekend to Twin Falls Ida. for three games in the Coca-Cola Classic tournament. "I hate to be on the road during finals" Paur said. "I am upset the league makes students travel during this critical time in the semester. My players have to miss enough school as it is, making them travel and forcing them to ask teachers to schedule special time for final exams is just not right" he continued.
The next home game will be Sat. Jan. 5 against the alumnae at 3 p.m. in the BDAC.