Three-point shooting, mother of six, faithfully returns to courts
A full-time student, mother of six and a member of the College of Eastern Utah's women's basketball team at 32 years old?
Alisa Morley played her freshman year for CEU Coach Dave Paur in 1993-94. At 6-foot-1 and an all-state player from Blanding, Utah, she was one of four women over 6-feet tall on Paur's team. "We had one of the tallest teams in junior college basketball that year," he said. "We beat Ricks by 25 points and should have taken the conference championship."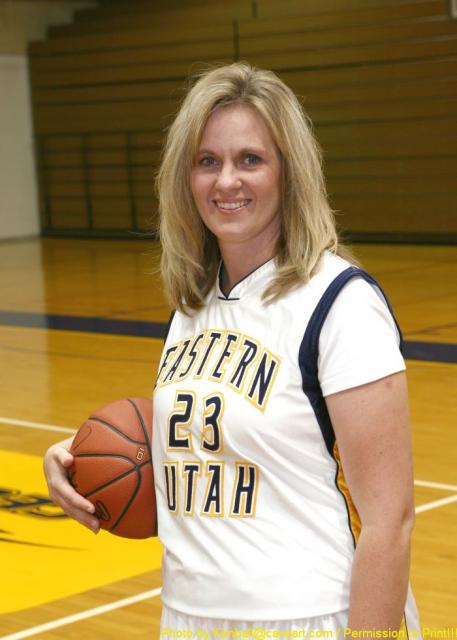 A full-time student, mother of six and a member of the College of Eastern Utah's women's basketball team at 32 years old?
Alisa Morley played her freshman year for CEU Coach Dave Paur in 1993-94. At 6-foot-1 and an all-state player from Blanding, Utah, she was one of four women over 6-feet tall on Paur's team. "We had one of the tallest teams in junior college basketball that year," he said. "We beat Ricks by 25 points and should have taken the conference championship."
Between Morley's freshman and sophomore seasons, three of the 6-foot players got married, including Morley, who met her husband Jedd during the first few weeks of fall semester. They were engaged in January of her freshman year and married in April. She eventually finished her associate's degree but still had a year left of basketball eligibility.
Thirteen years and six children later, Morley is part of Paur's rotation this year. "She hit three three pointers in a row against Glendale [Community College]," Paur added. "She shoots from half court and doesn't seem to have a conscience. She is setting at .500 in field goal percentage."
"When I was a freshman, I loved playing basketball. That year I played with future All-American Angie Ross and it was an overall positive experience. I was apprehensive about coming to Price to play college ball, but the people and especially Coach Paur made it a great experience." she said. "I would encourage anyone to play here."
Living in Price, Morley was a volunteer coach for the Golden Eagles last season where she felt her strength was giving the team talks about mental toughness and  believing in themselves.
"This made me think. I am preaching and teaching the team to be able to be the best they can be. The girls can do anything they put their minds to if they have confidence in themselves," she said. "But to be truly effective, I told myself that I could be a better example if I did what I told them to do. I loved playing basketball and wanted to return to the game.
"I first checked with my family and needed to get into condition. My husband and I decided to train for and participate in a triathlon last April. He invited me to work out with a great group of guys playing basketball every other morning at a LDS Church building. Now the season has begun, my body is still trying to get into shape. I ache and get sore a lot easier. I don't remember conditioning hurting as much thirteen years ago."
During her freshman year, Morley's parents (Ike and LouNell Chamberlain) or siblings were at every game be it home or away. This year, besides her parents and husband, Morley's cheer section at home games has grown. Her children who are 12, 11, 9, 8, 5 and 2 years old as well as the in-laws are part of the home crowd. "I can hear them cheer for me and it's great. I could not do this without their support."
Her weekdays begin at 5:30 a.m. where she gets up and reads the scriptures. On Mondays, Wednesdays and Fridays she is at the Bunnell-Dmitrich Athletic Center lifting weights and shooting. Her children are up at 6:30 a.m. where they get ready for school and then catch the bus. She runs her 2 year old to the babysitter and is in class by 8 a.m. She takes classes all morning and is in basketball practice from 1:30-3:30 p.m. She has another babysitter that stays with the children until she gets home from practice. Then she helps with homework, cooks dinner, reads to the younger children, and finally starts her homework at 9 p.m. "It will really take a lot of support from friends and family to get me through this season," she smiled. "Plus I pray a lot."  
She traveled with her team every weekend in November and that was hard on her family life. The coach lets her take one of her children with her on road trips and that helps. Her husband Jedd is with her this weekend, so her mom is driving from Blanding to stay with their children while she is in Twin Falls, Idaho, playing in a two-day tournament.
"The biggest challenge I face is making sure I am contributing to the team, believing in myself, and getting in shape. I work harder than I did when I first played college ball, but it is more rewarding now. My teammates accept me and I enjoy our conversations regarding their hopes and dreams for the future. I am very fortunate to play with such a talented group of girls. They are amazing!"
"One of the best things about playing basketball this year is going back to school. I feel like I am progressing and associating with awesome instructors … I am majoring in sociology and psychology so I am taking prerequisites to get into a university program," she added.
Morley even finds time to volunteer. "One of my class assignments is to volunteer a few hours a week so I chose to spend my time in an elementary school classroom with one of my children."
"I have no regrets. I push as hard as I can. My oldest son just made Mont Harmon Jr. High's basketball team. Some of his teammates' mothers heard I was playing college ball and asked me if I am crazy," she quipped. I will try to catch his games and attend my other children's sporting and dancing events. The family does not get as many home cooked meals now, we seem to be eating a lot more pizza lately.   "However, I am blessed to have great friends, family and a supportive husband. A plus-side to this is my children are learning responsibility by helping with the chores around the house."
Morley adds "I am so thankful for coaches Paur and Allen who have given me the chance to make this dream a reality, for teammates who encourage me to push harder when running ladders, baby sitters I can trust and depend on and family that is so very supportive."
Her coach says Morley adds to the team. "I'm glad she is fulfilling her dreams, hopes and goals. She always believed if you think you can do something, then do it."
She's a better passer now and works harder, Paur added. Besides, how many of us could juggle college, basketball and six kids. More importantly, how many of us get a chance to?