It is February and love is in the air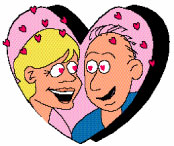 This archived article was written by: Mae Goss
It's February and love is in the air. It's a time of secret admirers, boxes of chocolates and females complaining about gaining weight. And don't we just love the love that goes around?
Where did all the "loving" start, or do we just give out presents because there wasn't a holiday in February? Turns out that Valentine's Day goes back to the Roman Empire. Pictureframes.com states, "There are varying opinions as to the origin of Valentines Day. Some experts state that it originated from St. Valentine, a Roman who was martyred for refusing to give up Christianity. He died on February 14, 269 A.D., the same day that had been devoted to love lotteries." According to the legend of St. Valentine, it is said that he left a farewell note for the jailer's daughter who had become his friend during captivity. He signed the note "From, your Valentine."
From then on it grew to the exchange of love letters and gifts to loved ones Feb. 14. Soon, St. Valentine became the patron saint of lovers.
The roses and chocolates are the stereotypical traditions of this holiday but what are some other traditions that have come about over the years? Howstuffworks.com says, "Hundreds of years ago in England, children dressed up as adults on Valentines Day and went singing holiday verses from door to door." Pictureframes.com states, "In Wales, wooden love spoons were carved and given as gifts on Feb. 14. Hearts, keys and keyholes were favorite decorations on the spoons. The decoration meant, 'You unlock my heart!'" The tradition of giving flowers on Valentine's Day dates back to the early 1700s when Charles II of Sweden brought poetical art called "the language of flowers" from Persia to Europe. "Throughout the 18th century, floral lexicons were published, allowing secrets to be exchanged with a lily or lilac, and entire conversations to take place in a bouquet of flowers. The more popular the flower, the more traditions and meanings have been associated with it," howstuffworks.com says.
In other countries, sometimes a young woman may receive a gift of clothing from a young admirer and, if she kept the gift, it meant that she would marry him. Other people used to believe that "If a woman saw a robin fling overhead on Valentine's Day, it meant she would marry a sailor. If she saw a sparrow, she would marry a poor man and be very happy. If she saw a goldfinch, she would marry a millionaire," pictureframes.com states.
"The Christian tradition of drawing names on St. Valentine's Eve continued in England and other places. The tradition of birds choosing their mates on St. Valentine's Day led to the idea that boys and girls would do the same. Now when a youth drew a girl's name, he wore it on his sleeve, and attended and protected her during the following year. This made the girl his valentine and they exchanged love tokens throughout the year," techdirect.com says. To wear your heart on your sleeve now means that it is easy for other people to know how you are feeling.
So the next time you give someone a rose or a little Valentine's Dau card, think of how you are honoring St. Valentine. Branch out and hopefully we can realize that being the stereotypical Valentine is overrated. Try something new and maybe you'll get a Valentine's kiss.