Marketing students compete at DSC
Four College of Eastern Utah's Business Club members, Shaylene Barrus, Jacob Mantz, Trevor Wood and Ryan Rose competed in a state-wide marketing competition this past weekend hosted by Dixie State College in St. George.
Mantz, Price, placed second in personnel management, and was the highest-ranking member on CEU's team. Barrus, Deweyville, competed in personal management and retail management. Rose, Kaysville, competed in fashion merchandising and Wood, Price, competed in sports and entertainment.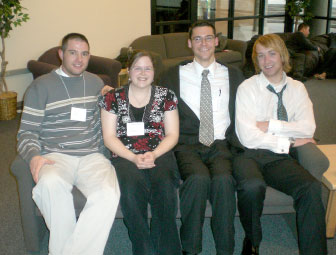 Four College of Eastern Utah's Business Club members, Shaylene Barrus, Jacob Mantz, Trevor Wood and Ryan Rose competed in a state-wide marketing competition this past weekend hosted by Dixie State College in St. George.
Mantz, Price, placed second in personnel management, and was the highest-ranking member on CEU's team. Barrus, Deweyville, competed in personal management and retail management. Rose, Kaysville, competed in fashion merchandising and Wood, Price, competed in sports and entertainment.
Prior to this event, Mantz, Barrus and Rose had not competed in DEX competitions, the national marketing fraternity.
Approximately 250 competitors representing all of Utah's two- and four-year colleges sent students to the competition that had a possible 13 categories to compete in during the two-day event.
Because of their respective performances, each of CEU's team members qualified for berths on the Utah team. The national competition is organized by states rather than colleges and universities. Qualifiers at state become part of the state team to represent Utah at the national competition held in Anaheim, Calif., in April.
Business Club Advisor David Cassidy said, "I am really proud of these students for trying something outside of their comfort zone and being so successful."