Family duo helps CEU basketball
From playing ball in their parent's driveway to playing on the same court at the B-DAC, brother and sister Chandler and Megan are again playing for the same school. The duo has helped College of Eastern Utah to a respective season in both men and women's hoops.
After a grueling Scenic West Athletic Conference Tournament last weekend in North Idaho that left the men in second place and the women losing in the first game, the two finally got a chance to sit down and talk about their year.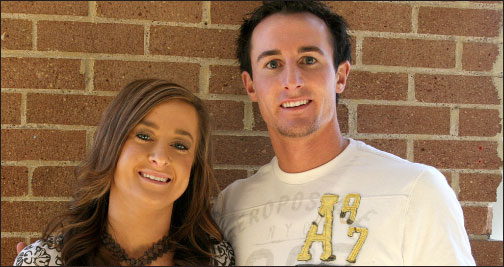 This archived article was written by: Riley Spears
From playing ball in their parent's driveway to playing on the same court at the B-DAC, brother and sister Chandler and Megan are again playing for the same school. The duo has helped College of Eastern Utah to a respective season in both men and women's hoops.
After a grueling Scenic West Athletic Conference Tournament last weekend in North Idaho that left the men in second place and the women losing in the first game, the two finally got a chance to sit down and talk about their year.
Playing for the same college as his sister helped Chandler decide to come back to play for the Eagles his sophomore year after serving a two-year mission for the Church of Jesus Christ of Latter-day Saints.
His first year he red-shirted, then played for Coach Bryan "Z" Zollinger his second year. "I had offers to play at other schools, but having Megan here helped me decide to come back and play for CEU when I got off my mission."
Megan and Chandler corresponded a lot throughout his mission. "We talked a lot about us both playing here , and even though not ever playing together would also be cool." While at Emery, the two Pearsons never had a chance to play together because Chandler is four years her senior; Chandler is 23 years old while his sister is 19.
The two enjoyed their experience of being part of the athletic program and living in the same dorm, Burtenshaw. "Living in the same building has been fun and being able to travel together. We are together a lot."
Growing up in the same house and living in the same dorm has been a plus for the siblings. "It's good because we had some years apart so its back to living together after four years," Chandler said.
When discussing their pick-up games in their parent's driveway while growing up, Chander and Megan smiled and agreed that he has been winning since the seventh grade. He plays a lot harder when competing against Megan to "toughen her up." Megan said her dad helps a lot with her game.
The two can be critical of each other after games. "We know each other's strengths and know when to help each other out. I'm not sure that is critical, just helpful of each other," he said.
Since Chandler is Megan's older brother, he has always been protective of her. "However, with her dating Aaron [England], I don't have to worry. Even when I was on my mission, my old teammates would always take care of her and kind of be that older brother for me and look out for her."
The Pearson's parents liked the fact that they could watch Megan and Chandler play basketball each night in the same arena. With the women playing the first game and the men the second, the parents spent hours in the same seat watching the two ball games each night. It worked out well for them to support the two teams each night.
"As we hit our late teens, we became best friends while maintaining our sibling rivalry," Chandler said. "Then the summers after graduation, we both seemed to grow up and grew a lot closer. We fought a lot until we graduated and that summer we got closer and both grew up," he said.
Chandler believed that serving a two-year mission helped him become a more complete basketball player. "I had a couple of return missionaries on the team my freshman year and they were bigger mentally and physically than I was. While in New York on my mission, I was able to grow up a lot, plus it helped me with confidence and to become physically bigger by 20 pounds."
Megan plans to play her sophomore year at CEU. "Coach Dave Paur takes care of us like we are his kids and I really like him. It's nice being close to home, but away at the same time."
Since Chandler is a sophomore and graduating, he plans to play at Utah Valley University, Southern Utah University or the University of Alaska next season. He also is engaged and getting married on May 9 to Lieren Grow of St. George. Megan says she is exited for him now that basketball is over. "We can start to get more excited and plan the wedding."