Nine-percent tuition hike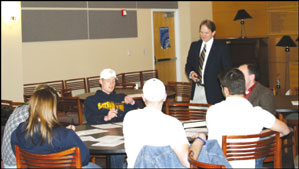 College of Eastern Utah students will need deeper pockets next fall as tuition is slated to go up nine percent, said interim President Mike King at a Truth in Tuition hearing Tuesday night mostly attended by the administration and representatives of student government.
In a document provided to students, King wrote, "This year's tuition and fee process comes in the wake of a significant downturn in Utah's economy. State revenue projections failed to meet expectations in the current year and projections for next year have led the legislature to dramatically reduce budgets for all state-funded agencies and institutions.
"The base budgets for the 2009-2010 fiscal year will be reduced by approximately 17 percent in comparison to last year's appropriation. For the College of Eastern Utah, this means a state-funds budget reduction in excess of $3.2 million. A cut of this magnitude will require a combination of increased tuition and fees and along with reductions in operating expenses, personnel and programs at CEU.
"The recommendation to increase tuition and fees is not a step taken lightly by the CEU administration. CEU has been a leader for the last three years in minimizing costs for students. Over that time fees have not been increased even though fee driven services have expanded. Tuition increases have been kept to the mandated increase as set by the Utah Board of Regents."
Enrollment fall 2008 was 2,084 and spring 2009, 1,729. Tuition revenue for fall 2008 was $1,112,087 and spring 2009, $1,047,384 with the total revenue for the academic year $2,159,500.
King wrote, the enrollment has been relatively flat for the past three years. Based on this trend, we are projecting that enrollment growth will be flat for the 2009-2010 academic year. Given the needs of the college, CEU will recommend to the Board of Regents a tuition increase of nine percent. This increase will increase full-time-student tuition by $85 per semester. This should bring an additional $194,300.
The new revenues generated by the increase in tuition will be used to offset some of the revenue lost due to the state-imposed budget cuts. Our first priority for the funds will be to enhance our promotion of the college, King wrote.
In order to increase enrollment, CEU needs to increase its name recognition throughout Utah and the surrounding states, King continued. Funds will be used to develop a new marketing/image plan, increase awareness of our quality programs, and enhance scholarship opportunities.
All colleges and universities in the Utah System of Higher Education are experiencing similar budget reductions and will be increasing their tuition by a similar percentage.