Rev. Davis discusses Black History
Discussing the positive achievements of African Americans was the main focal point of a forum featuring the Rev. France A. Davis when he described Black History Month at the College of Eastern Utah, Feb. 26, in the Jennifer Leavitt Student Center.
He told the faculty, staff and students that originally Black History Month was celebrated the second week of February. "This week was important because Abraham Lincoln and Frederick Douglass were born the second week, plus the National Association for the Advancement of Colored People was organized that week."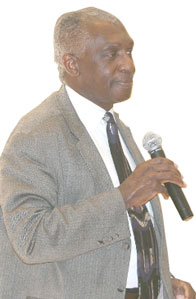 Discussing the positive achievements of African Americans was the main focal point of a forum featuring the Rev. France A. Davis when he described Black History Month at the College of Eastern Utah, Feb. 26, in the Jennifer Leavitt Student Center.
He told the faculty, staff and students that originally Black History Month was celebrated the second week of February. "This week was important because Abraham Lincoln and Frederick Douglass were born the second week, plus the National Association for the Advancement of Colored People was organized that week."
He asked those in attendance if they knew who laid out Washington DC streets, made the first all-wooden clock, first doctor to perform open heart surgery, invented street lights and the gas mask? All were African Americans.
The U.S. Constitution defines African American males as three-fifths of a person, Native Americans as not being a person, and white men as whole persons, he said.
Many think that Black slaves were given their freedom with Lincoln's Emancipation Proclamation in 1863. There were not given their freedom until the 13th, 14th and 15th Amendments to the Constitution were ratified. Then seven million people had their freedom but no education or means to support themselves. To help educate this new class of people, Black Colleges and Universities were created to educate the African American people. These colleges represent three percent of the 4,084 institutions of higher education.
Davis said when the Klu Klux Klan was organized, it was to keep African Americans in their place. "We had to sit in the front of the trains, back of the busses, balcony of the theatres and bottom of the boats."
A black trapper named James Beckworth was in the Utah Territory 25 years before the first Mormon pioneers arrived in the Salt Lake Valley, he said. Three black servants were with the pioneers when they first arrived in the valley.
About 28,000 African Americans live in Utah and work primarily in the hospitality, mining and train industries. Most live within 40 miles of Salt Lake City, he said. In addition to living on the Wasatch Front, there are many Black families who had made Carbon County their home for years.
Walking alongside Martin Luther King Jr. and knowing Malcolm X, he explained that he had a lot of history to tell. King had three goals needed for African Americans to be equal. First, we needed to deal with the issue of poverty, limit our military and enter the political arena. "With Barrack Obama as president, we have achieved one of King's goals."
Davis, resides in Salt Lake City, and was born and reared on a Gough, Ga., farm to John H. and Julia Davis. After high school, he attended Tuskegee Institute and later became an Air Force jet mechanic. He later earned degrees in Afro-American studies from Merritt College; arts and humanities from Laney College; rhetoric from University of California at Berkeley; religion and philosophy from Westminster College; master's of mass communication from the University of Utah; and master's of ministry from Northwest Nazarene College.
He came to Salt Lake City in 1972 as a teaching fellow and graduate student. He was appointed instructor in communication and ethnic studies courses, earning a distinguished teacher award, and continues to teach in the University of Utah's Honors and Ethnic Studies Program as adjunct associate professor.
He was licensed in 1966 and ordained in 1971 for ministry. Presently, the Rev. Davis is, and has been since 1974, the full-time pastor of the historic Calvary Missionary Baptist Church of Salt Lake City, Utah.
He lectures widely on cultural and religious topics. He also serves on community and national boards including the Salt Lake Housing Authority, Career Service Council and the Salt Lake Convention and Visitors Bureau.
He has received numerous awards including an honorary doctor of humane letters degree from the University of Utah in 1993, Salt Lake Community College in 1997, Dixie State College in 2002, the T. K. McCarthey Silver Hope Award from the National Multiple Sclerosis Society, 2006, an official citation from the Utah House of Representatives in recognition of outstanding service to his community, state and nation in 2006 and appointed as a member to the Salt Lake Community College Board of Trustees by Governor Huntsman in 2007. The Rev. Davis published (October, 2006) his second book, "France Davis: An American Story Told."
Pastor Davis is a member of The Utah Board of Regents.