"Room Service" opens tonight
Eastern Utah Theatre opens its 2009-2010 season this weekend with John Murray and Alan Boritz's hilarious farce "Room Service" at 7:30 p.m. in the Geary Theatre.
According to its director, Corey Ewan, Ph.D., "This is the second time this play has appeared on the Geary Theatre stage. The first production was under the direction of Lee Johnson and featured an up and coming young actor named Corey Ewan. It is fitting that nearly 30 years later, Dr. Corey Ewan is retracing his steps with this current production."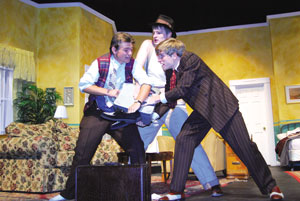 This archived article was written by: press release
Eastern Utah Theatre opens its 2009-2010 season this weekend with John Murray and Alan Boritz's hilarious farce "Room Service" at 7:30 p.m. in the Geary Theatre.
According to its director, Corey Ewan, Ph.D., "This is the second time this play has appeared on the Geary Theatre stage. The first production was under the direction of Lee Johnson and featured an up and coming young actor named Corey Ewan. It is fitting that nearly 30 years later, Dr. Corey Ewan is retracing his steps with this current production."
Last year Grady McEvoy, theatre department chair, "asked for suggestions for the coming season. I had been thinking about directing 'Room Service' a lot."
"I had the opportunity to act in the show a second time at BYU and had great memories about the play and how funny and successful it was. So, I asked to direct it," Ewan said.
First produced in 1937, "Room Service" has been performed all over the country, most recently at the Utah Shakespearean Festival two years ago. According to Dramatists Play Service, this play is "one of the great comedy successes of all time."
Ewan feels the time is ripe for a farce. "There is so much unrest and anxiety in the world and particularly right here at CEU. I wanted a play that's main goal was to make people laugh. I want people to put aside their worries and fears and just come to have fun."
During the BYU production, director Charles Metten "stressed the importance and the healing power of laughter. He worked hard to get the best bang for the buck, laugh wise," Ewan added.
"Room Service" has plenty of laughs. It tells the story of a Broadway producer, Gordon Miller who is attempting to put on a play that will be a smash hit. The problem is he has run out of money, and is about to be thrown out of his hotel room along with all of his actors. He has to find a way to get the play on the stage, house and feed his actors, keep a hold of his playwright and avoid the "We Never Sleep Collection Agency."
The cast is made up of a talented group of freshmen and sophomores. Leading the cast is Braden Nelson (Olympus High School) playing Gordon Miller, Scott Zaborski (Tuacahn High School) playing hotel manager Joe Gribble, Michael S. Johnson (Tooele High School) and Mitchell Ewan (Carbon High School) are playing Gordon's director, Harry Binnion, and general assistant, Faker Englund.
Christine Marlowe, Gordon's fiancée is played by Liesl Cope (Spanish Fork High School), Sarah Jones (American Fork High School) is playing Hilda Manney and Tanner Snow (Clearfield High School) is playing Leo Davis, the aspiring playwright. Rounding out the cast is Scott Westwood (West Jordan High School), Henry Rudolph Jr. and Devin Skinner (Riverton High School), Sheraya Barajas (Mountainview High School) and Todd Olsen (CEU director of admissions and scholarships).
"These actors really make the play their own, there are bits and pieces of past productions, but the bulk is theirs. They created a lot of the laughs and business. I hope everyone enjoys the show and comes expecting some fun, Ewan said during a phone interview from Waikiki.
The play runs from Sept. 24-29 with Sunday black. A matinee performance was added on Sept. 27 at 2 p.m. Tickets are $10 adults, $7 senior citizens, $5 CEU faculty/staff and non-CEU students, $3 for CEU students.