Todd Olsen voted staff member of the year by '08-09 students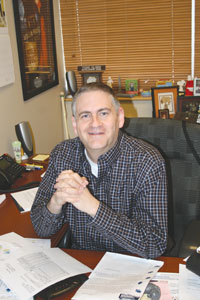 This archived article was written by: Kelli Burke-Gabossi
During the spring semester 2009, all registered spring semester students at the College of Eastern Utah had the chance to vote for the most outstanding staff member of the year. Students elected Told Olsen, admissions and scholarship director.
Olsen considers himself a student advocate. He participates in school activities. He's the student government adviser. And he is completely dedicated to CEU. He has been associated with CEU for 20 years. He first came to CEU as a student. He attended for two years and enjoyed his time here so much that he stayed for a third year. In his third year, he was elected student body president.
He then transferred to the University of Utah where he received his bachelor's degree in English and theatre history. He doesn't believe in regret, but wishes he continued in a master's degree program before entering the workforce. "I don't like to think about what might've or could've been," Olsen states. "I take advantage of every day."
In his years at CEU, Olsen has directed theatre, taught college success skills, intro to theatre, and intro to film.
He almost always is working, but in his free time, he likes to travel, listen to music and be involved in theatre. Up to date, Olsen has travelled to Paris, Egypt, London, Ireland, Wales, Italy, Athens, and Greece. In the future, he would like to visit Australia and go on a photo safari in Africa.
His favorite quality of CEU is that the students, faculty and staff are fully involved with the campus. He plans to continue to be a productive and positive influence at CEU.