Holiday dance concert next week
A collection of dances representing fall holidays will be combined for this year's Season's Greetings performance under the direction of instructor Melissa Anast.
Season's Greetings performances run from Nov. 19-21 at the Geary Theatre. The concert starts at 7:30 p.m. Cost is $10 for adults, $7 senior citizens, $5 ffaculty, staff and students without activity cards and $3 with an activity card. Children under 5 will not be admitted to the hour-long performance.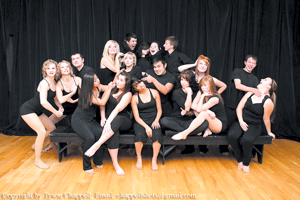 This archived article was written by: Erin Page
A collection of dances representing fall holidays will be combined for this year's Season's Greetings performance under the direction of instructor Melissa Anast.
Season's Greetings performances run from Nov. 19-21 at the Geary Theatre. The concert starts at 7:30 p.m. Cost is $10 for adults, $7 senior citizens, $5 ffaculty, staff and students without activity cards and $3 with an activity card. Children under 5 will not be admitted to the hour-long performance.
Anast is trying to involve autumn, Halloween, Christmas and New Years into this year's repertoire saying, "[We are] expanding a bit since last year."
The pieces this year appear to be quite the mix involving Pointe, lyrical, hip-hop and theatrical dance styles and techniques. Whitney Ison and Miriam Gileadi will perform solos.
Opening pieces are a little spooky, according to Anast. The assembled list of includes 12, eight of them new; all of them together bring the audience through a rollercoaster of emotions: funny, serious, happy and scary. Gileadi enjoys the way everyone in dance ensemble fits together and fits into the dance they are performing, while Anast feels "this year [they're] really supportive of me and my vision."
A lot of props are being incorporated this year, many of them created by Noel Carmack, Gallery East curator. "[The props are a] little bit of a challenge," said Anast.
A highlight for this performance should be the costumes, which have taken a lot of time as well as plenty of altering. Gileadi loves the costumes for modern dance piece and is excited for her own costume saying about both outfits, "I like scary things." There are lots of creepy costumes and colors according to Anast and hopes people pay attention to known aspects being used in new and exciting ways.
She is credited with choreographing every piece except the lyrical dance that three former improvisation dance class students created.
Biology instructor Tyson Chappell, Ph.D. will display several of his photos in the foyer of the Geary Theatre during the dance performance. Trisha Munns designed the posters for the dance performance from a vision Anast had in mind.
Gileadi believes the performance this year feels like a "breakthrough," and just "loves it all."