"Systemic Profiles"
Four Utah artists are exhibiting their work at College of Eastern Utah's Gallery East through Thursday, December 11.
Titled Systemic Profiles, it features a diverse use of artist's media, including oil paint, paper mach , photography, sound and fabricated materials.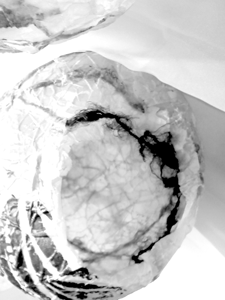 This archived article was written by: College of Eastern Utah Art Department
Four Utah artists are exhibiting their work at College of Eastern Utah's Gallery East through Thursday, December 11.
Titled Systemic Profiles, it features a diverse use of artist's media, including oil paint, paper mach , photography, sound and fabricated materials.
Steven Stradley, an emerging artist working in Salt Lake City, organized the show and says that the concept behind the exhibit is based on interplay between structured systems. "Color and mark making play an important role in defining the types of systems and change based on other forces," says Stradley. As the gallery visitor passes through the space, they will see four visual interpretations of various systems.
Stradley, who received a BFA from Utah State University and teaches art at Mountain Ridge Middle School in Highland, Utah, says he is in the process of creating art as an expression of concept and the materialism of paint.
His work is in response to his interest with system interaction. Another objective in his art is to explore the influences that outside forces exhibit on an existing system, and to see that system change based on the magnitude of the introduced force. Systems are represented in the work as linear patterns.
"The complexity and interaction between these systems is evident in the layered approach and intertwining of the painted elements," he explains. As color intensity and saturation fluctuate, the painted system receives new character and energy, or change. The mark making is also important to Stradley as a way to control the emotion and speed of interaction between systems.
In Stradley's work, presented during Systemic Profiles, the viewer may enter into the system-based installation and experience a spatial dimension, an added layer of complexity when the work becomes three-dimensional and the individual systemic elements leave the painted surface and occupy the viewer's space.
Another artist, Carrie Wardle, who received her degree in art from USU, has recently moved from her Sandy home to pursue an MFA at the State University of New York, at New Paltz.
Wardle says her travel experiences in England, Germany, Italy and the Dominican Republic allowed her to see and understand new cultures, new languages and new art forms. Inspired by nature, travel and the world around her, she pulls objects from everyday life and manipulates them.
She says "by magnifying the objects, I pay closer attention to detail and then repeatedly draw and meld them into sometimes unrecognizable forms often repeating the image over and over."
Wardle spends most of her time working in printmaking and mixed media projects. In addition to having work in Utah shows, she displays her work at her art studio in Kingston, N.Y., and continues her craft at creating two-dimensional form manipulation and transforming them into three-dimensional objects.
Pleasant Grove artist, Randal Marsh, who teaches with Stradley at Mountain Ridge Junior High, received his BFA from Brigham Young University and works out of his home-based studio.
"The purpose of my work" he says, "is to comment on contemporary society through symbolic means while creating formally successful art objects. The symbols represent various aspects of civilization such as language, location, textile, and commerce.
"For example, I use predictive text and networked lines as a representation of an economy based on gift exchanges. It is my hope that experiencing these works in an installation will create a unified visual and auditory experience that can let the viewer feel temporarily displaced from their world in a manner similar to film or literature."
Spanish Fork artist, Barbara Frazier, received her BFA from Utah Valley University and is a lecturer in UVU's Art Department.
Frazier, a photographer, often uses innovative combinations of materials, figurative elements, and self-reflective imagery in her work. Her creative process is often inspired by "beautiful words, words that are kind and gentle" and seem to linger in her mind for a very long time.
She describes her installation as a body of work "born from a journal entry filled with single words in a column, sweet morsels given to me throughout one particular day. My art making process always begins with a question, which leads me to imagery and continues with research and a study of materials."
Objects in nature and the female figure are reoccurring themes throughout her work. "I use them," she explains, "to sort and acknowledge observations and experiences to make them visible. I work with mixed media, collage and installation within photography. Where I add, subtract, multiply, and divide the materials and images, each action pulls me toward another viewpoint beyond that of the common photographic print."
Her installation is inspired by human physiology: "Limbic Work … Long arcs and loops of bright silver tubing working its way around things seen, heard, or felt. It represents the components of the limbic system, part of the brain, which influences the formation of memory, a constellation of connections. It is this system that is responsible for the memories associated to each word jotted down in my journal. I read it often and want to remember it forever."
A reception and artist's talk is Friday, Dec. 4, from 6:30 to 8 p.m. Students, faculty and members of the community are invited to attend.
Gallery East is open Monday through Thursday from 11 a.m. to 5 p.m., closed Fridays, weekends and holidays. The exhibit is free and open to the public. For more information, contact the gallery at 435-613-5327; Noel Carmack 435-613-5241 or [email protected].