Two former students jailed
Halloween night. A night of frivolity, happiness and candy. Not for Zach Ramsay and Casey Buchi, two former students from the College of Eastern Utah, who thought it was a good idea to pull a gun on two trick-or-treating teens in White, UT.
According to an article in the Deseret News, Ramsay and Buchi pulled up in a white car and, "brandished a gun at the trick-or-treaters."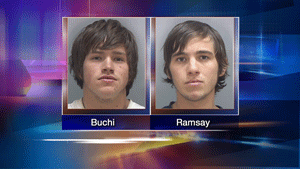 This archived article was written by: Mae Goss
Halloween night. A night of frivolity, happiness and candy. Not for Zach Ramsay and Casey Buchi, two former students from the College of Eastern Utah, who thought it was a good idea to pull a gun on two trick-or-treating teens in White, UT.
According to an article in the Deseret News, Ramsay and Buchi pulled up in a white car and, "brandished a gun at the trick-or-treaters."
When the teens didn't have any money in their pockets, Salt Lake County Lt. Sheriff Don Hutson said, "One of the guys hit the kid on the head and took his bandana." Hutson continues on, "The only thing I can think of is they (the older teens) thought the kids were older and would have some money. They didn't even take any candy."
The Deseret News article reported that Ramsay and Buchi were booked into the Salt Lake County Jail for investigation of armed robbery.
According to KSL.com, "The police say the pair admitted to the robbery."
CEU's Dean of Students, Alex Herzog, stated that Ramsay and Buchi were suspended from school three weeks ago. Both were freshmen and lived in Sessions Residents Hall.
Buchi was from Sandy, Utah and Ramsay was from Las Vegas, Nevada.