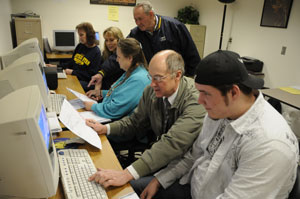 This archived article was written by: Mae Goss
It's February and although it's the season of love and such, it's also the season to pay Uncle Sam his due taxes; and who knows how to prepare your taxes for free? The College of Eastern Utah's income tax preparation class does.
Since 1982, CEU has prepared income taxes for low-income families, seniors and students, and the best part is that it's free. CEU was the first educational institution in Utah that started doing taxes for the students and community through Volunteer Income Tax Assistance (VITA). The instructor, Henning Olsen, states, "CEU was the first, the 'flag ship' for long-hand, computer and electronic filing with the VITA program." The class, income tax preparation, is a two-credit class that gives the students a "real world experience" with basic tax knowledge. The CEU center prepares between 400 to 500 returns each year. Olsen said that this gives the potential professions of accounting, public relations or as a tax consultant.
This class helps the students by giving them their first accounting job. The program they use, Tax Works, is commercial software, used by many professional companies. The students are required to pass an IRS exam to qualify them as a tax preparer. Amber Barlow, a student in the class, said that when she completed and passed the exam it was, "very satisfying."
It isn't only students who help with the preparations; community members, CEU staff and former students help as well. Hank Savage, for instance, comes every year to help students understand procedures and to also prepare tax return. Cathy Eastin and Kathy Neumeier help with the computer program and the network. Linda Jensen, CEU division Secretary, is another contributor to the program. She spends countless hours of her own time preparing returns. Joni Moosman, a person who has had her taxes done at the school for more than ten years, says about Jensen, "She knows where every stack [of taxes] is." There are about nine students and four volunteers who help.
But free tax assistance is not limited only to Price city. Olsen said, "People come from all over the state." Olsen also said that there have been people who have moved out of the state, who still mail in their forms to CEU to have them done.
All that needs to be done is take in the W-2 forms from last year's employers and a tax-practitioner will help with the paperwork. Of special interest this year to students is the "education credits."
Olsen said, "Students who pay tuition and fees need to do taxes so they can be reimbursed." The refunds can be emailed, sent directly to a bank (direct deposit) or to a house address.
How does one take advantage of this incredible offer? The students of CEU are eligible and, being so, are encouraged to take their tax forms in to the Reeves building accounting lab, room 130. The hours are from 12:30 – 3:30 p.m. on Monday-Thursday.