Lady Eagles struggle to break losing streak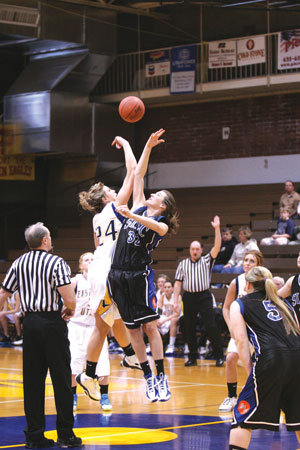 This archived article was written by: Devin Latu
The College of Eastern Utah lady Eagles have had a tough time getting wins this season. This has proven to be fact after two losses last weekend, to the Snow College Badgers, and the Salt Lake Community College Bruins. This put the Eagles at a seven-game losing streak.
Friday's game against the SC Badgers proved to be a disappointment when CEU suffered an 85-64 loss. The women were missing the help of their leading scorer, Kaylie Robison. As for if her presence in the game would have changed the outcome … I guess we'll never know. This win for the Badgers put them at No. 3 in the Scenic West Athletic Conference standings with a 12-6 record.
Bruna Deichmann was the leading scorer for the Eagles in the loss. She had 18 points and two assists. Samara Pereira also had a good game, with 10 points and pulling down three rebounds. Savana Gines added nine points and one assist.
Saturday's game against the No. 5 in the nation SLCC Bruins was no different. The Bruins left the Bunnell-Dmitrich Athletic Center with an 83-62 point win over the women Eagles. This win for the Bruins puts them at No. 2 in the SWAC with a 14-4 conference record and a 22-6 record this season.
Deichmann once again shined for the Eagles with 20 points and two assists. Robison chipped in 13 points and four rebounds. Sophomore point guard Libby Alon racked up nine points, three rebounds and five assists.
These two losses by CEU put them at No. 5 in the Scenic West Athletic Conference with a record of 3-15.
This weekend the CEU women will be on the road, facing off against North Idaho College on Friday in Coeur d'Alene, Idaho. NIC is No. 2 in the SWAC with a record of 12-6.
On Saturday, the Eagles take on the College of Southern Idaho Eagles in Twin Falls, Idaho. CSI is currently sitting at No. 4 in the SWAC at 12-6.
The SWAC Tournament will be at the Bunnell-Dmitrich Athletic Center on March 4-6, the first time the tournament has been hosted at CEU. Mark the dates on your calender. Students will pay in order to attend the tournament games. It costs $8 for reserved seating or $6 for general admission for each session (two games per session), or $20 for an all-session pass.
The tournament gets under way when the No. 3 seed and Colorado Northwestern Community College face off at noon on March 4. The CEU women play their first game at 5:30 p.m. that day against CSI.