Baseball starts slow, team wins two in Colorado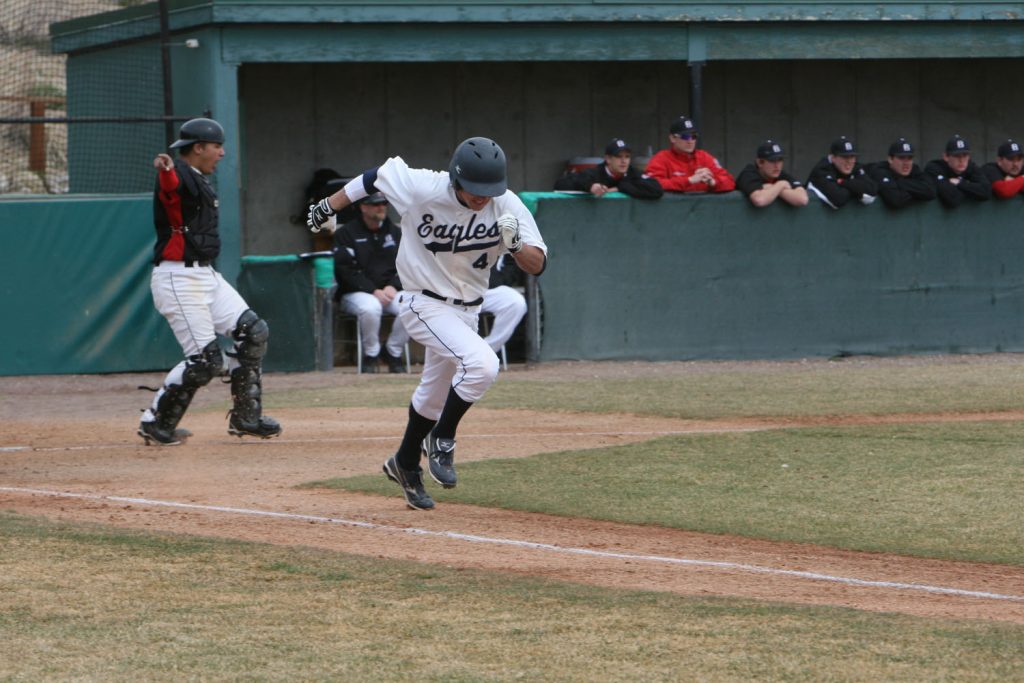 This archived article was written by: Kris Sanford & Jordan Cunningham
USU Eastern baseball team struggles in the first part of the season as they are tied for fourth place with Colorado Northwestern Community College. With a record of 2-10, the Eagles got their first two victories this past weekend which could turn around their losing streak.
On March 4, USU Eastern played the College of Southern Idaho. The score was 1-14 with the only run being scored by the center-fielder, Craig Brinkerhoff, who went two for three with a triple. The Eagles struggled on the mound as they went through three pitching changes during the six-inning game. Kody Christofferson received the loss, giving up seven runs in the first two and one third innings. Collectively the team gave up 15 hits, 13 runs.
The Eagles faced CSI for the second time on March 5th and were beat again, 1-8. Designated-hitter Rob Smith scored the Eagles only run. EU had another tough game, with three hits and four errors. However their pitching improved from the previous game, allowing 10 hits and eight runs. Colby Tidwell pitched for three and one third innings, giving up six hits and five runs. Both Smith and Brinkerhoff went one for three with a double. Tyler Slesk went one for three with the only RBI for USU Eastern.
In the first of four games against Western Nevada Community College, the Eagles lost 4-7. Colter Moore went 5 1/3 innings recording five strikeouts, giving up five hits, three runs and walking five batters. However, Moore received the loss. John Morgan, Anthony Gustin and Nuho Kraja finished the last two innings, giving up four runs. Slesk and Kort Christofferson both went one for three with a home run and two RBIs.
USU Eastern suffered another tough loss against WN losing 15-4. Kody Christofferson went six innings, had five strikeouts, four walks and gave up eight runs recording the loss. Slesk leads the team with a batting average of .403, went three for four with two doubles, one single, scoring two runs. Slesk said "it's nice to hit well even if we lose by 11." Karja also hit well going two for three with a double and an RBI. Brinkerhoff went two for four with a single and a home run. The Eagles struggled on the mound as they gave up 15 runs off 15 hits. It was the same story in the batter's box, the Eagles went nine for 34.
Game three of their four-game series was their best showing against Western Nevada, even though they lost 5-2. Kort Chistofferson pitched five innings, giving up four hits and three runs. He also recorded four strikeouts and walked three batters. Despite holding WNCC to three unearned runs through the fifth, Kort Christofferson received the loss. Kody Christofferson and Mason Hollingsworth both went two for three with one RBI. Hollingsworth also had a double and scored once.
On March 12, USU Eastern got hammered in their fourth bout against WNCC losing 16-2. The Eagles pitching was less than satisfactory going through five pitchers in five innings. Jordan Hepworth received the loss, giving up five runs in the first two innings. Kody Christofferson went one for two with a double. Brinkerhoff and Slesk both went one for three with a single. Coach Scott Madsen was disappointed after a four-loss weekend and hopes their hitting will improve.
March 18-19, the Eagles played a four-game series against Colorado Northwestern. The games ended in a split, with two loses and two wins. The opening game against CNCC, the Eagles lost 8-4. However the Eagles out hit CNCC 11-9. The second game against CNCC, The Eagles pulled out their first conference win 13-9. Tory Ullibarri was the winning pitcher. He faced one batter and allowed one hit. The Eagle's offence produced 13 hits and 13 runs.
The following day, game three; USU Eastern defeated CNCC for the second game in a row. This game was over after five innings due to the ten run rule. The final score was 12-2. He eagles produced on offence bringing in 12 runs with 9 hits. On defense they produced as well; Colby Tidwell was the winning pitcher he threw for 3.2 innings allowed three hits and two runs. In the fourth and final game the eagles were defeated 8-13 but once again out hit CNCC 11-6
This coming weekend the Eagles play at home against the number two team in the nation, Salt Lake Community College. "Splitting with CNCC was a low point in my life, so the only way to go from here is up," said Kort Christofferson. It's still early in the season so there is plenty of room for improvement.