The Odd Couple
As the semester enters its final weeks toward the end, the Geary Theater will have its last play of the season produced in it: The Odd Couple.
Director Todd Olsen said he chose this play because you can't go wrong with Neil Simon, playwright. There are two versions to this play, female and male, and he chose to do the male version because the female version didn't have, "as strong of a script. The comedy seemed more forced."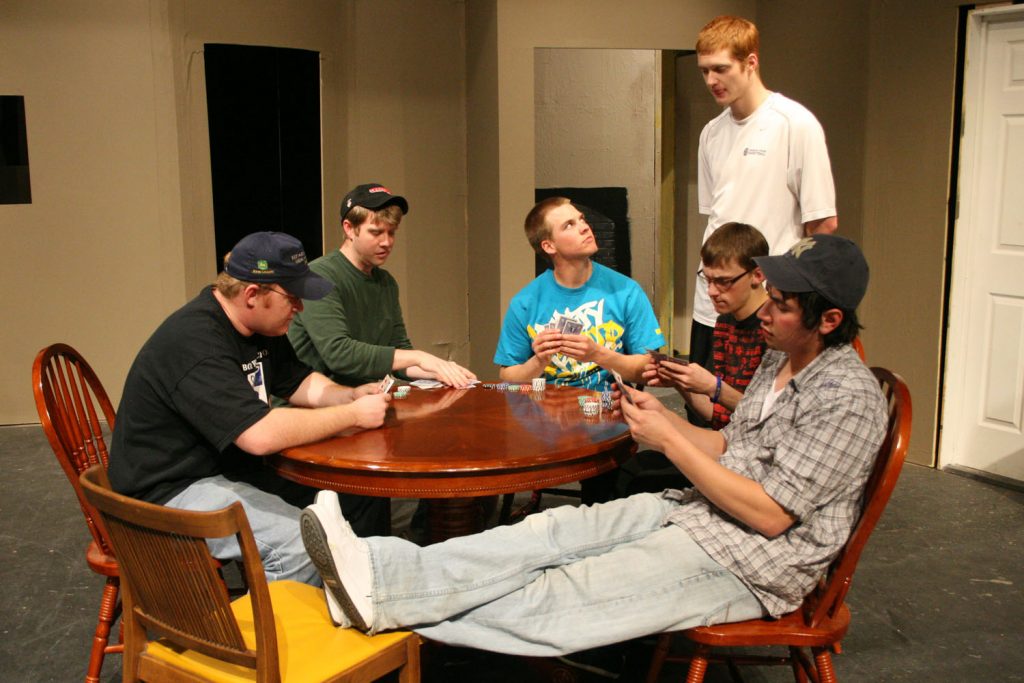 This archived article was written by: Mae Goss
As the semester enters its final weeks toward the end, the Geary Theater will have its last play of the season produced in it: The Odd Couple.
Director Todd Olsen said he chose this play because you can't go wrong with Neil Simon, playwright. There are two versions to this play, female and male, and he chose to do the male version because the female version didn't have, "as strong of a script. The comedy seemed more forced."
A basic story line of The Odd Couple is it opens with a weekly poker game in motion. There is one player who is missing, Felix Unger, and the other players are worried about him. He finally shows up and tells the group that his wife has kicked him out of his apartment and he doesn't have anywhere to go. One of the group members, Oscar Madison, offers Felix to stay with him.
The conflict comes when Felix, a headstrong clean-freak, finds that Oscar is a very messy person. Throughout the play, they must learn to live outside of their shells.
The moral of the story could be said to make good on your promises, Olsen said.
All of the characters are well rounded, Olsen said, though he, himself, identifies with Felix more.
Olsen said the cast is strong and that they're doing well. "They have to make these characters live . . . The biggest challenge is maintaining the pace that is mapped out."
"The audience should just have a good time, sit back and let it happen," Olsen said. "Theater enriches life. Theater gives ultimate ability to connect to the world."
The cast consists of Scott Westwood, Andrew Mahalik, Jared Clark, Troyal George, TJ Revas, Wilford Woodruff, Lisha Michel and Bethany Gilmour Woodruff. The stage manager is Anne Morey. The technical crew consists of Grady McEvoy, Scott Westwood, Diana Cox, Seth Burgess, Scott Zaborski, Trent Kinney, Leisl Cope, Jamin Smith and Shala Jo Pitchforth.
The play will run March 31, April 1, 2, 4, 5. Doors open at 7 p.m. and the show will start at 7:30 p.m., with a matinee on Sat. at 2 p.m.