"Limitless amount of baseball talent"
Although his dream of playing baseball at the collegiate level for the 2012-13 season was nearly impossible, Luke Madsen has now been voted as team captain for the Utah State University Eastern Eagles.
Madsen returned from serving an LDS mission in Micronesia, Guam in May. He knew he wanted to play baseball. He went to the Cache Valley Showcase at Utah State University in Logan to see if a college team would pick him up.
Recruiting Coordinator, KC Smurthwaite, called Luke and requested a workout and afterward, offered him a spot on the USU Eastern baseball team.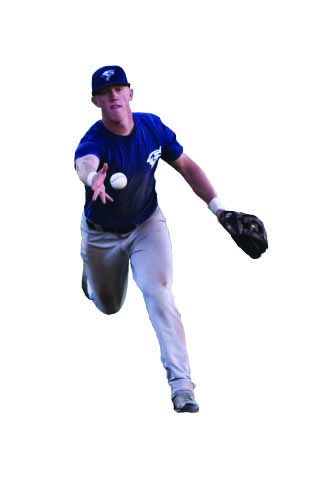 This archived article was written by: Karli Morris
Although his dream of playing baseball at the collegiate level for the 2012-13 season was nearly impossible, Luke Madsen has now been voted as team captain for the Utah State University Eastern Eagles.
Madsen returned from serving an LDS mission in Micronesia, Guam in May. He knew he wanted to play baseball. He went to the Cache Valley Showcase at Utah State University in Logan to see if a college team would pick him up.
Recruiting Coordinator, KC Smurthwaite, called Luke and requested a workout and afterward, offered him a spot on the USU Eastern baseball team.
Smurthwaite was impressed with Luke at the showcase. "He was out-playing kids that were top recruits. I could tell that he had a limitless amount of baseball talent but was trying to find it again. I really liked how positive he was on the field and how he carried himself.
"We needed another shortstop and I really liked him, but so did other colleges. Everything just fell into place in his recruitment. It was a natural fit," Smurthwaite said.
Recently, Luke was voted by the Eagles to be one of three team captains. "I don't feel like a captain is any better than anyone else, I just view it as my team trusting me," he said.
Head Baseball Coach, Scott Madsen (no relation to Luke Madsen) said that he agrees with the team's decision of making Luke a captain. "He gets along well with all those he comes in contact with and is sincere with his desire to really help that individual.  Luke is a great individual that as the right attitude towards everything that he does in baseball and life. 
"He is a great example for anyone that crosses his path.  On the field he works as hard as he expects everyone else to work.  He has set a high standard for the other players on the field to follow, but will not expect others to do the work unless he can himself complete the work.  He holds himself to such a great high standard.  He is a great leader because of his work ethic that he shows every day."
 Luke looks forward to the spring season with a positive attitude. "I'm excited for the spring and feel like we have potential to win. Some encouraging stuff happened this fall. We definitely have potential and a lot of talent."
Luke is also part of the Army National Guard, devoting one weekend a month to serving his country. "My whole family plays baseball." One of Luke's brothers played AA ball with the Chicago White Sox and another brother played at SLCC.
After school Luke wants to play baseball for as long as possible and get a job working with teens and youth. "I want to help them through their trials," he said.
Luke is grateful for the opportunity he has to be a part of Eagle baseball. "I want to thank Coach Madsen and all the coaches for giving me this opportunity to play the game I love. It truly is a dream come true."